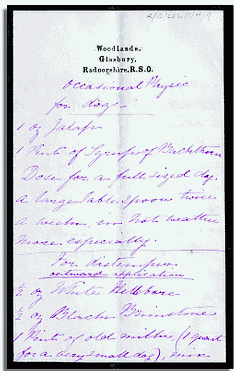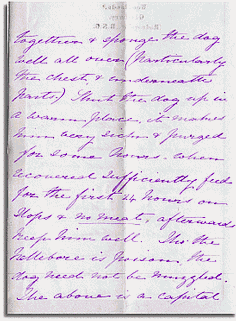 Ffisig Achlysurol i gwn
Archifau Sir Powys
Bywyd yn y Cartref
Rysetiau yng nghasgliad Lewis Lloyd: Ffisig Achlysurol i gwn
Roedd y rysetiau yng nghasgliad Lewis Lloyd yn cynnwys moddion ar gyfer cwn hyd yn oed:
"Occasional Physic for dogs
1 oz Jalap
1 pint of syrup of buckthorn
Dose for a full sized dog.
A large tablespoon twice a week, in hot weather more especially.
For distemper
outward application
½ oz White Hellebore
½ oz Black Brimstone
1 Pint of old milk (1 quart for a very small dog), mix together and sponge the dog well all over (particularly the chest and underneath parts). Shut the dog up in a warm place, it makes him very sick and purged for some hours - when recovered sufficiently feed for the first 24 hours on slops and no meat, afterwards keep him well. Tho' the hellebore is poison, dog need not be muzzled. The above is a capital dressing for Sporting dogs once a month during the summer and hot weather."

Fel gyda'r meddyginiaethau cartref eraill ar y wefan, nid ydym yn eich argymell i'w defnyddio gartref!

Mae Jalap wedi'i wneud o "the dried tubercules of Ipomoea Purga, Hayne (N.O. Convolvulaceae), a climbing plant indigenous to the eastern slopes of the Mexican Andes." (The British Pharmaceutical Codex, 1911). Fe'i defnyddiwyd fel carthwr (i bobl) fel ydoedd triog rhafnwydd (The Physiomedical Dispensatory, William Cook, MD, 1869).
White hellebore ". . . is an irritant. When applied . . . [as an] ointment . . ., it excites a singular sense of heat and tingling, or prickling pain, which, however, does not last long, but is followed by a coolness and more or less numbness" and "sometimes it gives rise to headache, nausea, griping, slight diarrhoea, and. depression of the action of the heart. When swallowed it is a violent, irritant poison . . ." (King's American Dispensatory, 1898). Caiff brwmstan, sy'n dod o sylffwr, ei ddefnyddio i leihau cosi (The Physiomedical Dispensatory, William Cook, MD, 1869).
Unwaith eto, diolch yn fawr i Henriette's Herbal Homepage.
---