1891

In English

Hafan

Addysg

Amodau Cymdeithasol

Bywyd yn y Cartref

Cyfraith a Threfu

Cymuned

Diwylliant

Gofal Iechyd

Gwaith

Powys: Y Pryd Hynny a Nawr

Trafnidiaeth


Mynegai


E-bost





Gofal Iechyd
Ysbyty Bwthyn Llandrindod: is-ddeddfau ar gyfer cleifion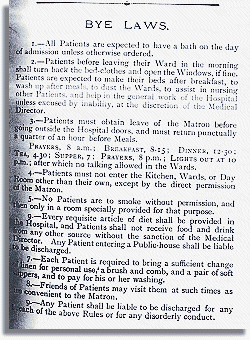 1. All Patients are expected to have a bath on the day of admission unless otherwise ordered.

2. Patients before leaving their Ward in the morning shall turn back the bed-clothes and open the Windows, if fine. Patients are expected to make their beds after breakfast, to wash up after meals, to dust the Wards, to assist in nursing other Patients, and help in the general work of the Hospital unless excused by inability, at the discretion of the Medical Director.

3. Patients must obtain leave of the Matron before going outside the Hospital doors, and must return punctually a quarter of an hour before Meals.
PRAYERS, 8 A.M.; BREAKFAST, 8.15; DINNER, 12.30; TEA, 4.30; SUPPER, 7; PRAYERS, 8 P.M.; LIGHTS OUT AT 10 p.m.; after which no talking allowed in the Wards.

4. Patients must not enter the Kitchen, Wards, or Day Room other than their own, except by the direct permission of the Matron.

5. No Patients are to smoke without permission, and then only in a room specially provided for that purpose.

6. Every requisite article of diet shall be provided in the Hospital, and Patients shall not receive food and drink from any other source without the sanction of the medical Director. Any Patient entering a Public-house shall be liable to be discharged.

7. Each Patient is required to bring a sufficient change of linen for person use, a brush and comb, and a pair of soft slippers, and to pay for his or her washing.

8. Friends of Patients may visit them at such times as are convenient to the Matron.

9. Any Patient shall be liable to be discharged for any breach of the above Rules or for any disorderly conduct.
Fel ag y mae'r is-ddeddfau yn ensynio, nid oedd y cleifion yn gaeth i'w gwelyâu ac roedd ganddynt gryn dipyn o ryddid i symud o amgylch. Roedd disgwyl iddynt gynorthwyo i ofalu am gleifion eraill a gwaith cyffredinol arall.
---