Gofal Iechyd
Y Pâs
Mae'r Pâs, a achosir gan y bacteria Bordetella pertussis, weithiau'n angheuol (gweler www.whoopingcough.net am ragor o wybodaeth). Y prif symptom yw peswch sy'n debyg iawn i dagu, gyda'r peswch yn digwydd pan fo'r dioddefwr yn gallu tynnu anadl yn ôl i'r ysgyfaint yn sydyn iawn. Prin iawn y gweler y cyflwr hwn heddiw, oherwydd brechiadau. Mae'r papurau yn Archifau Sir Powys yn cynnwys tair meddyginiaeth sy'n lliniaru'r symptomau:
Whooping Cough
Dissolve a scruple of salt of Tartar in a gill (1/2 a pint) of water - and ten grains of Cochineal fine powdered - sweeten with fine white sugar - Give to an infant a tea spoonful 4 times a day - to a child of 2 or 3 years two tea spoonfuls and to a child of 4 or upwards a table spoon ful each time.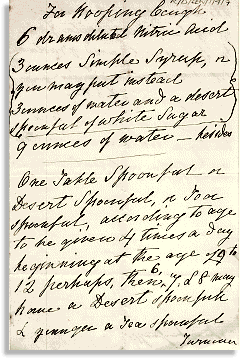 For Whooping Cough
6 drams diluted nitric acid
3 ounces Simple Syrup, or you may put instead 3 ounces of water and a desert spoonful of white sugar
9 ounces of water besides
One Table spoonful, or desert spoonful, or tea spoonful, according to age to be given 4 times a day beginning at the age of 9 to 12 perhaps, then 6, 7 and 8 may have a Desert spoonful and younger a tea spoonful.
Turn over
The Teaspoon of course may be filled quite full In 5 yrs old and gradually less till it comes to half in a young baby
When it is given to a baby a little more water must be added.
Roedd y rysáit uchod i'w ddefnyddio'n fewnol, ac un i'w anadlu mewn oedd yr un isod: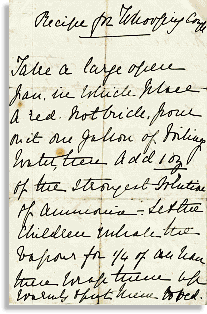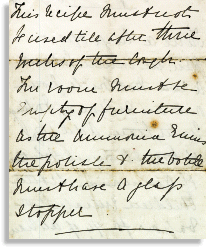 Recipe for whooping cough
Take a large open jar, in which put a red hot brick. Pour on it one gallon of boiling water, then add 1 oz of the strongest solution of ammonia. Let the children inhale the vapour for ¼ of an hour then wrap them up warmly and put them to bed.
This recipe must not be used till after three weeks of the cough.

The room must be empty of furniture because the ammonia ruins the polish and the bottle must have a glass stopper.
---