1891

In English

Hafan

Addysg

Amodau Cymdeithasol

Bywyd yn y Cartref

Cyfraith a Threfu

Cymuned

Diwylliant

Gofal Iechyd

Gwaith

Powys: Y Pryd Hynny a Nawr

Trafnidiaeth


Mynegai


E-bost





Trafnidiaeth
Gwneuthurwyr Coetsys

Cario gyda cheffyl yng Nghrughywel
Amgueddfa ac Oriel Brycheiniog

Roedd llawer math o gerbyd a gâi eu tynnu gan geffylau ac roedd llawer o bobl yn cael eu cyflogi i'w cynyhyrchu a'u cynnal.

Un o'r enwocaf oedd Herbert C J Rich y mae ffordd wedi ei henwi ar ei ôl. Roeddynt yn deulu ffyniannus a allai fforddio dwy forwyn.

Hysbyseb ar gyfer H C Rich

Archifau Sir Powys
1891 Census
41 Watton
Name
Position in
household
Marital
status
Age
Occupation
Place of Birth
English/Welsh
speaker
Herbert C J Rich
Head
M
71
Retired
coachbuilder
Corby Ionian Islands -
British subject
English
Herbert C J Rich
Son
M
38
Coachbuilder
Brecon St Mary
English
Emily G Rich
Daughter in law
M
36
Brecon St Mary
Both
Jane Rich
Grandaughter
13
Scholar
Brecon St Mary
English
Norah R Rich
Grandaughter
11
Scholar
Brecon St Mary
English
Herbert C J Rich
Grandson
9
Scholar
Brecon St Mary
English
Sidney C G Rich
Grandson
7
Scholar
Brecon St Mary
English
Rose L Rich
Grandaughter
5
Scholar
Brecon St Mary
English
Annie Bather
Servant
S
25
General Servant
Brecon St Mary
Both
Elizabeth Rogers
Servant
S
19
General Servant
Breconshire Llanfrynach
English
Roedd mab Herbert Rich yn is ddirprwy gofrestrydd priodasau ar gyfer Undeb Aberhonddu yn ôl Kelly's Directory am 1895.
Erbyn cyhoeddi Kelly's Directory roedd cyn yrrwr injian wedi'i sefydlu'i hun fel gwneuthurwr coetsys. Hysbysebodd Joseph Bregazzi yn y Directory fel:
"Bregazzi, Joseph E. (successor to the late Henry Evans), coachbuilder & wheelwright, waggonettes and phaetons, dog carts and every description of vehicle built to order; estimates given; St David's Street Llanfaes."
Adeiladydd coetsys arall oedd William R King a oedd yn byw ddau ddrws i ffwrdd oddi wrth Joseph Bregazzi. Roedd gan King ddau fab yn cael eu cyflogi yn y gwaith hefyd, y ddau fel paentwyr.
1891 Census
13 St Michael Street, Brecon
Name
Position in
household
Marital
status
Age
Occupation
Place of Birth
Disabilities
English/Welsh
speaker
William R King
Head
M
67
Coachbuilder
Gloucestershire Bristol
English
Mary Ann King
Wife
M
56
Breconshire Brecon
Deaf
English
Bessie King
Dau
S
23
Breconshire Brecon
English
Charles King
Son
S
17
Coach Painter
Breconshire Brecon
English
Edward King
Son
S
15
Coach Painter
Breconshire Brecon
English
Bertram Poole
Nephew
11
Scholar
Herefordshire Hereford
English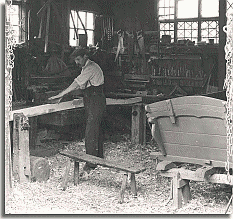 Saer Olwynion yn Sir Faesyfed
Amgueddfa Sir Faesyfed
---