Civic and Community
Going to Church
Many people's days were occupied with church related activities. September 24th feel in the middle of the Harvest Festival season and many diarists were busy in connection with this.
Worked in Abergavenny Baptists Church weekly coffee morning until mid-day - town crowded for market day. Lots of visitors to the town - we were busy selling coffee, tea, toast and home made cakes - takings were £35 towards Church heating and lighting costs. My six pots of home made jam sold almost immediately! Spent an hour and a half counting the Church money from Sunday's Harvest Service and Harvest lunch collection and preparing - and balancing - the Church accounts.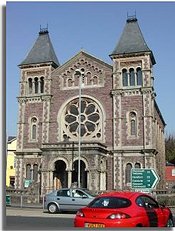 Abergavenny Baptists Church
My neighbour called later, we finished off a bottle of sherry and discussed church matters - mother's union, harvest festival and fund raising.

My leisure time was attending the United Reformed Church Fellowship meeting at the home of one of the church members when a lady gave a short talk telling of her experiences, working in London as a telephonist, during the World War II, and we all enjoyed tea and chocolate biscuits.

Took a car full to the afternoon meeting at the Mission Hall Cwmtwrch. About 25 of us from lots of different churches in the area. Lovely sandwiches, cake, catch up on chat over a cup of tea afterwards.




To Cusop at 7.30 to take choir practice. Worked at the music for forthcoming Harvest Service (Friday 27th September). 15 choristers present and Dr Derek Wilson playing the organ. The Harvest Sung Evensong will be conducted according to the Book of Common Prayer which, together with the music, is mainly as the service would have been 100 years ago (except for the Anthem setting of Psalm 65 for which I wrote the music in 1995).




Cusop Church


Hymns: Come ye thankful people, come;
To Thee, O Lord our hearts we raise;
Fair waved the golden corn, and
We plough the fields and scatter.
Psalm 65, the Magnificat and the Nunc Dimittis sung to Anglican Chant.
Prayers and responses: Tallis Festal in C.
Anthem: Thou visitest the Earth
Final Amen: Stainer's Sevenfold.
Two accounts of a Harvest Festival service which took place a fewdays after September 24th are on this page.

---