Civic and Community
A Day in the Life of a Clergyman
These are diaries from Church in Wales Anglican priests of Radnorshire parishes. Another dairy from another minister of religion can be seen here .
I awoke at 6.30am and went downstairs to my study to do some desk work before the rest of the household (wife and two young children) awake. My wife was teaching that morning at a Primary School, so I took the boys to their school which is near the Rectory.
At 9.15 I went to the Church to say morning prayer and was joined there by four other people.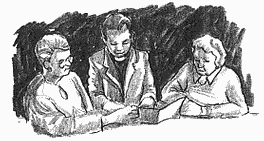 Day Centre


At 11am I went to the Day Centre for elderly people to conduct a service of Holy Communion. We began by singing a hymn, but some ladies who wanted to join in were not able to because they were having their hair done in another room!
I had to leave the Day Centre fairly quickly to go back to the Church to take a funeral. The lady was well known, a keen bowler and W.I. member, and the Church was packed with people. After the service I travelled in the hearse to the new crematorium at Llanbadarn Fawr (near Aberystwyth). About 1/3 - ½ of the funerals I take finish with cremation rather than burial. As the journey takes a good hour, and the "committal" around 15 minutes, the whole of the funeral took up nearly four hours of my day.
After tea back at the Rectory I went out again for a 7pm school governor's meeting at a Church in Wales Primary School. As rector I am on the governing body ex-officio, but at this school I am also Chair of Governors. The meeting was over by 9pm, which is something of an achievement! After that, home and off to bed at 11pm.

The day began at 7am. After prayers I made breakfast, woke the two boys and then spent some time at my desk reading mail and answering letters.
I spent some of the morning preparing the service for Llanwrthwl Harvest Festival. Seeing as it is my first there I wanted it to be right.
Later in the day I went with a local builder to look at the baptistry wall at Cwmdauddwr. It is going to be a big job and will cost the Church a lot of money.
The evening was spent at Llanwrthwl celebrating Harvest to a goodly few adults and children who performed a sketch. Rev Andrew Holmes, New Radnor was the preacher.
Late to bed again. Got to stop working sometime!
---