Social conditions
A day in the life of a Minister of Religion
This is the diary of a minister of the Presbyterian Church of Wales.
7.20
My dog Winnie (the Pooh/the Wonderdog/Mandela-because-she's-black) wakes me. Wants out as usual. Open French window and leave her to it. Put first washing load into machine. Breakfast is coffee with cheese on fresh multigrain bread and some grapes. Listen to BBC Radio 4 "Today" programme; it concentrates on the Downing Street dossier on Iraq , embargoed till 8am. To war or not to war? It's clear what Tony Blair wants. Thank God for the level of principled opposition!I'm not actually in Llandrindod: I work as a cross border minister of the Presbyterian Church of Wales with responsibility for four churches in Shropshire and Powys, centred on Shrewsbury where my rent-free house is located. The congregations are English language with an "ex-pat" Welsh feel. With no resources beyond my stipend I couldn't afford to buy a property in Shrewsbury, so in 1993 bought here. It's emphatically not a second home depriving locals of affordable housing. This estate is being built on as there is a market and is still about 1/3 undeveloped. Welsh Nationalists and participants in last Sunday's "Liberty and Livelihood" march in London please note!! I'm here most weeks at some time, for some reason, and only "let" it to friends or relations in need of a break.

8.50am
Change to winter weight duvet. Put in second load of washing. Wash dishes.

9.20am
Attention to mail (and this diary). Hung out washing. Water beans and tomatoes.

10.25am
Coffee and mini apple tart.

10.40am
Scheduled to be in the Shropshire and mid Wales Hospice where I'm a voluntary chaplain. Mix with group attending Day Centre (there's another Day Centre in Newtown).

11.35am
Short worship service in the adjacent chapel. We pray, light candles, listen, sing, think about light in a dark world.

12.50pm
Arrive home after pit stop en route at local Co-op store

12.50 -2.30pm
Do monthly budget check on either side of lunch (crackers and humous; frozen cod and oven chips and my own runner beans; a few more grapes and a little more cheese; and, the sin of a chocolate biscuit accompanied by a couple of glasses of red wine - not designated a sin).

2.30pm
Diary writing

2.48pm
This morning's post brought news that "Poetry Now" want to publish my poem "The First Pairing" in an anthology. Take far too long (and have another glass of wine) to decide on two commas and a line break.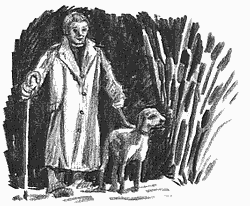 3.45pm
Winnie wants walking. Indian summer September weather suggests Merrington Green, a nature reserve 6 miles NW of Shrewsbury. Two stops en route - for photocopying and to pick up marrows from the Harvest at Bomere Heath. On the Green the ferns and the flossy rosebay willow herb are taller than me, as are the standing reeds topped by dark brown "cigars with spindly extremities". Alone. In late-afternoon warmth. In a wild place.
5.50pm
A rushed sandwich (humous, thinly sliced tomatoes, olives) then set out for Stafford with 5 Anglican friends - one of whom walked 2001 Shrewsbury miles to raise money for the victims of the "9/11" suicide attacks in the US and the millions endangered by drought and the aftermath of war in Afghanistan. He raised £6111.00 in sponsorship. Cheque presented to Christian Aid speaker for the evening whose area of responsibility includes Afghanistan. 95% will be allocated to projects Christian Aid runs in Afghanistan and 5 % will help affected American families. The local committee provides supper - authentic (and different!) Afghani recipes gleaned from the Internet.
11.30pm
Arrive home. Flop into bed.
POSTSCRIPT: This is a fairly typical day in my life. There were no pastoral emergencies, however, and the telephone was quite quiet. I didn't check for emails. On the other hand I'm usually home before 11pm!
---
A day in the life of Church in Wales ministers can be seen
here