Civic anc Community
County Councillors
County Councils were first established by the 1888 Local Government Act. At that time Powys consisted of three separate councils - Breconshire, Radnorshire and Montgomeryshire. These three counties were amalgamated by the local government reorganisation of 1974, and became Powys County Council.
Amongst other matters Powys County Council has responsibility for Education, Planning, Highways and Social Services, each being dealt with by individual committees.
One diarist had words to say about a Highways matter:
The Council are repainting white lines on the road to Lower Chapel - they did it a few weeks ago six weeks before resurfacing the road and obliterating the new paint.

Several elected County Councillors contributed diaries for this project and many had other community responsibilities in addition to their role with the County Council.

The Chair of the Council was also a semi retired farmer, and had much of his day taken up with Council and other community matters.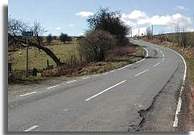 White Lines on the Lower Chapel Road
9.00am Dealing with telephone calls relating to Council business
10.00am Travel to inspect and deal with highway matters
11.00am Meet and discuss details of meeting to be chaired in the afternoon
1.30pm Attend and chaired launch of Powys Biodiversity Action Plan at Maesmawr, Caersws.
3.15pm Attend official opening of Llandinam Gravels Nature Reserve
7.00pm Attend Llangurig Community Council meeting
9.30pm Attend to telephone calls and some matters of correspondence
Another County Councillor also had several different responsibilities:
8am - 10am Dealt with County Councillor matters - letters and telephone
10am Travelled to Builth Wells to an Age Concern Cymru meeting as Chairman of Age Concern Radnorshire.
3.45 - 4.30 pm Arrived home. Dealt with County Councillor matters on the telephone and dealt with constituent at the front door relating to a planning matter
6.45pm Left home for Llandegley and attended a meeting of Radnorshire Sports Development Group to which I am appointed as a County Councillor
9.30pm Home. Dealt with some paperwork. Making a response to a National Assembly of Wales document relating to specialised health services for children in Wales - response done on behalf of Knighton Town Council on which I also sit.
---