Civic and Community
A day in the life of a County Councillor
Field of sheep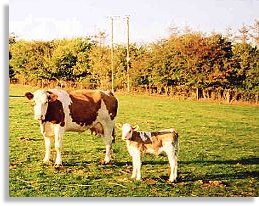 A cow and her calf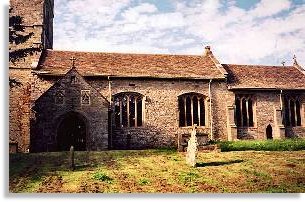 Old Radnor Church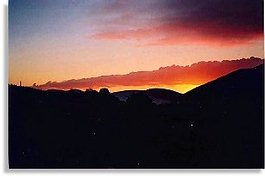 The rising sun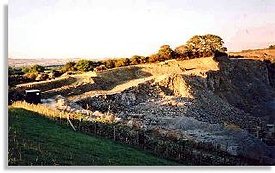 The quarry
This is the diary of a member of Powys County Council - also a farmer in Old Radnor, mid Powys. The diarist also took several photographs around Old Radnor on September 24th.
6.30am Breakfast: porridge, 2 pieces of toast and a glass of tap water. Watch TV while eating to catch up on world and national events.
6.50am Inspect beef cows I calved yesterday. Need to double check to see if Calf is sucking ok etc. First frost of Autumn.
7am -7.15am Took some photographs of rising sun looking towards England
7.20am Started filling in extensification forms for W.A.G. (yet more form filling).
8.30am Change of clothes for Board meeting of PCC. Took note of stock market situation. FTSE on the slide, standing at 3729.
8.45am Left for County Hall
9.00am Arrive at County Hall
9.15 - 10.00am Pre-meeting with CHEX
10.30am Commence Board Meeting which I chaired. Long agenda.

1.00pm Break for lunch. Roast beef etc. Discussion with members over lunch.
1.45pm Back to work, complete meeting at 3.50pm. Do some admin.

4.10pm Travel home.
5.00pm Arrive home, read mail and daily papers - Western Mail and Daily Telegraph.

5.50pm Next 2 hours spent looking round all the stock on the farm, days still very warm, need to check for fly strike. Beef cows are being fed stock feed potatoes, need to make sure no animal has a potato lodged in throat. Ok so far.
7.50pm Much colder, may be another frost. Back to form filling. No end to it.
8.45pm Seen enough paper for one day. Watch second half of soccer match between Man Utd and Leverkuson. Have some supper and go to bed.
---