Civic and Community
War with Iraq
Diary Day on September 24th occurred during a time of heightened tension with Iraq over its possible accumulation of weapons of mass destruction. The British Prime Minister Tony Blair gave a statement to Parliament on 24th which can be read on a separate page, and this was followed by a parliamentary debate. The prospect of war naturally preoccupied the thoughts of many of our diarists, and below is a selection of the comments made.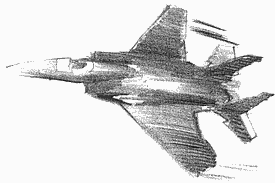 We listened to the debate in parliament while we worked. Very worrying and the future could hang on a thread. They talk of Hitler, but I think Saddam is a lot more dangerous. Please God - no war.


The sky has been full of the sound of aeroplanes all day, as it has been for a week or so. They are too high to see but the noise fills the air. They are also flying at night. Today information of Saddam Hussein of Iraq was published and the Prime Minister, Tony Blair, spoke and answered questions in Parliament on the danger from Iraq. I saw the news on television when I got up and at eight, details were given of the information. I saw the debate on television in the afternoon.


After morning registration we had French. We were counting down because my friend had told us that on a programme she'd watched at 8.45 that Iraq could bomb us in ¾ hour, but by 9.30 we were still alive.


The jets have started their runs down the valley again, after their summer break. At least 8 of those big American things roared over me this morning. I can't look at them, only when I'm up the mountain and they are below me. They press me down into the ground. More of them seem to come every day now. I suppose they're getting ready to bomb Iraq. Ghastly for the people out there. Just the low flying roar of them terrifies me. I wouldn't need bombs as well to make me capitulate. Bush is hanging back a bit now. Maybe something will be sorted out between him, UN and Saddam to avoid war. Not too hopeful though. Jane says Keith is commissioned to collect a load of munitions and sail to the Middle East with them in early 2003. Worrying for her.


We have the radio on to listen to the news (Radio 4). The main report is about the threats of war with Iraq. The USA along with Britain seem to be the only countries who are convinced that Iraq under Saddam Hussein pose any threat to the world. I am appalled that we could go to war to solve any problem especially with such flimsy evidence about Iraq's so called 'weapons of mass destruction'.


Headlines - all about the Iraq situation, Saddam Hussein and his stockpiling of weapons. "Iraq already has the means to strike with chemical and biological weapons of mass destruction and Saddam Hussein could launch nuclear weapons within 2 years". Tony Blair PM issued an intelligence dossier showing these facts. George Bush, President of the USA is spoiling for war and dragging us in with him - God forbid!


The news from Westminster regarding Iraq was guarded. The commons debate seemed to indicate they would support UN action. I just hope Blair will cut loose from Bush. The whole situation with Bush is like a powder keg with a pyromaniac in charge.


Woke up to Today programme on Radio 4. Turned off radio alarm immediately as news especially depressing. President Bush, who can hardly put one word in front of another, boring on about declaring war on Iraq.


Home just after 9pm and I warm up a nice piece of quiche to eat while I watch the 10pm news. Saddam Hussein is up to his old tricks again. Why didn't they pick him out during the Gulf War?


She had downloaded from the Internet the document that Tony Blair the PM had published 'IRAQ'S WEAPONS OF MASS DESTRUCTION' to persuade the public why we should join the USA and George Bush to remove Saddam Hussein from power by force. S H is an evil man but America's intentions are equally frightening, masked in a righteous cloak of crusading fervour. I read it and sat up late thinking and worrying about it. After all, the only country that has ever used nuclear weapons in anger (and against civilians) is America.


Listened to news about possible war against Iraq. Very worried. Saddam Hussein has got missiles that can hit Cyprus and Turkey. My parents live in Cyprus.


Listened and watched with horror as we run headlong into yet another war. As a Quaker I am totally opposed to this.


The hills are looking clear but the peaceful view is intersected with low flying aircraft - Hercules and helicopters laden with troops heading towards the Eppynt for a military exercise. Some military jets are screaming overhead - I fear we are already preparing for an unwanted war with Iraq. Tony Blair is trying to convince parliament that it is necessary but I think we are too easily influenced by America. There is a telephone vote on the radio which shows that 2/3rds of British people don't want to go to war.


Listened to TV news hoping that we do not have a war again. I served in the HLI Glasgow Highlanders, in Normandy during World War II.


Studying WWII and looked at Giles cartoon from April 1945 about evacuees. Sad that world is still unsettled place and Bush And Blair are determined to drag us into a war with Iraq.


Watched News at Ten on TV. A very worrying serious threat of war and a major fall on the stockmarkets, not much good news.




Deffroais am 7 o'r gloch, yn hwyrach nag arfer a rhoddi radio Cymru ymlaen i gael y newyddion. Irac yn cael ei drafod eto. Gobeithio na chawn ryfel eto. Yr oeddwn yn yr ysgol yn Tywyn ar ddechrau rhyfel 1939 - 46 a gorfod newid fy meddwl am fynd i'r coleg yn Lerpwl o achos y bomio yno.



---