Community & Civic Life
Joint Counties Lunatic Asylum
The Lunatic Asylum in Abergavenny opened in December 1851 and initially served the communities of Monmouthshire, Herefordshire, Breconshire and Radnorshire. It was the Joint Counties Asylum until 1897, after which it served Monmouthshire alone. A new asylum was built to serve Brecon and Radnor in 1903 - the Mid Wales Hospital at Talgarth.
The quarterly meeting of Radnorshire County Council on 6th November 1891 dealt with a report from the Committee of Visitors to the Asylum: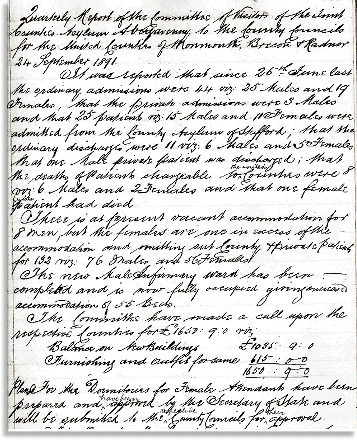 Powys County Archives
"It was reported that since 25th June last the ordinary admissions were 44 viz: 25 Males and 19 Females, that the private admissions were 3 Males and that 25 patients viz: 15 Males and 10 Females were admitted from the County Asylum of Stafford; that the ordinary discharges were 11 viz: 6 Males and 5 Females that one Male private patient was discharged, that the deaths of Patients chargeable to the United Counties were 8 viz: 6 Males and 2 Females and that one female private patient had died.
There is at present vacant accommodation for 8 men, but the females are one in excess of the accommodation and omitting out County and Private patients for 132 viz: 76 Males and 56 Females.
The new Male Infirmary ward has been completed and is now fully occupied giving increased accommodation of 55 beds.
The Committee have made a call upon the respective Counties for £1650:9:0 viz:
| | |
| --- | --- |
| Balance on New Buildings | £1035:9:0 |
| Furnishings and outfit for same | 615:0:0 |
| | 1650:9:0 |
Plans for the Dormitories for Female Attendants have been prepared and have been approved by the Secretary of State and will be submitted to the respective County Councils for their approval."
For more information on the County Asylum of Stafford, visit this page.
---