1891

Home

Community &
Civic Life

Culture &
Entertainment

Education

Health Care

Home Life

Law & Order

Social Conditions

Transport

Work


Index



E-mail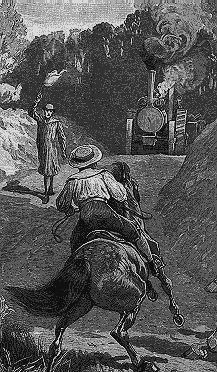 Traction Engine
from the
Illustrated London News
Community & Civic Life
Mr Read of Burghill

The Radnorshire County Roads Surveyor, J L Wishlade, made his report to the Council meeting of November 6th 1891. It appears that some problems had arisen with one of the County's bridges by injudicious use of a traction engine.
"The one Parapet Wall of a small arch near Walton has been damaged by a traction Engine belonging to Mr Reed of Burghill being driven against it. I find it will be necessary to take it down and rebuild same the Cost will be about £3. I wrote Mr Read on 1st Sept calling attention to the matter but have received no reply. I also believe that the men in charge of the Engine removed some coping stones of new Wall by Ditcheld Bridge for the purpose of passing hose into Brook to supply water to Engine which I may further add was for sometime employed in hauling material from Gore Quarry for repairing roads in adjoining County and that it was a source of danger and annoyance to the Public. Some portions of the roads in this part of the County are not very wide which makes it very awkward for people riding or driving. The roads are damaged a good deal I should be glad to have instructions respecting it."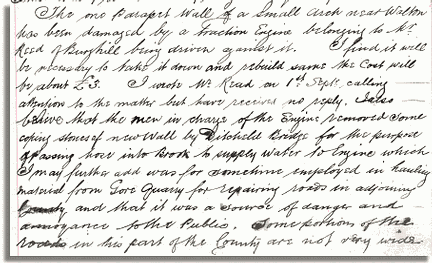 Powys County Archives
In his report at the next meeting on 22nd January 1892, Wishlade merely reports:
"The parapet wall of arch which was damaged by traction engine (referred to in my last report) has been taken down and rebuilt."