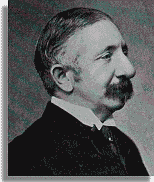 Stephen Williams,
County Surveyor & Architect
Powys County Archives
Community & Civic Life
Stephen Williams, County Surveyor
Stephen Williams was born in Mellington near Churchstoke, on June 7th 1837. Educated at Bishop's Castle, he was articled to a civil engineer in Newcastle, Staffordshire. He went on to become an assistant to Benjamin Piercey, who did much of the early surveying for the Welsh railways.
He moved to Rhayader in Radnorshire in 1862 and married Maria, daughter of Captain James of Penralley. Stephen Williams set himself up as a land agent and surveyor. In 1886, he also qualified as an architect, and was later appointed county surveyor to Radnorshire.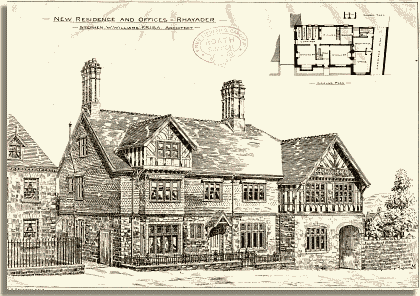 Powys County Archives
His work was prolific both in his capacity as County Surveyor and as a private practitioner. It included enclosures, bridges, houses, public buildings, churches and much work for the Birmingham Corporation relating to the water works at the Elan Valley.
As well as his surveying and architectural skills, he was a knowledgeable local historian with a particular interest in archaeology. He supervised many local excavations. He also started the first Rhayader volunteer corps and eventually rose to command the 1st Herefordshire Rifles in 1898.
At the time of the 1891 census, he was at Penrally with his wife Maria:
1891 Census
Penrally, South Street, Rhayader
Name
Position in
household
Marital
status
Age
Occupation
Place of Birth
English/Welsh
speaker
Stephen W Williams
Head
M
53
Civil Engineer, Architect and Surveyor
Montgomery, Churchstoke
English
Maria Williams
Wife
M
47
Radnor, Rhayader
English
Margaretta E Evans
Visitor
S
32
Radnor Rhayader
English
Mackay J G Scobie
Visitor
M
39
Solicitor
Hereford Hereford
English
Emma Embrey
Serv
S
25
Cook & Domestic servant
Montgomery, Montgomery
English
Eleanor Jones
Serv
S
36
Housemaid & Domestic servant
Brecon Llanwyrthwl
English
He died on 11th December 1899.
For more information on Stephen Williams, visit the Powys Digital History Website.
---