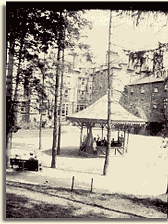 Bandstand, Pump House Hotel
Powys County Archives
Culture and Entertainment
Entertainment in Llandrindod Wells
Much of the entertainment on offer in Llandrindod in 1891 was to be found through the hotels, as many of the other venues for entertainment were not constructed until later in the 1890s.
The Pump House Hotel was a huge building which offered many recreational opportunities to its guests. These included "Fine smoking and billiard rooms, Large reading and writing room, adapted for amusements and dancing (without interfering in any way with the comfort of visitors not attending the same." It also boasted the Lake with all its facilities, and "A PRIVATE BAND engaged by the hotel performs every day".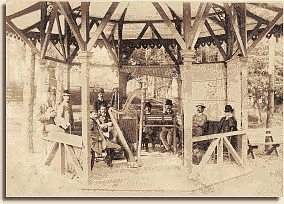 Bandstand, Pump House Hotel,
from the other side
Radnorshire Museum

Even the smaller hotels could boast a piano:



Advertisement for the Cambrian Hotel
from Evans' Guide
Powys County Archives
There was a Market Hall and Assembly Rooms in High Street, which were available for hire on application to Edward Jenkins of the Gwalia Hotel.
According to Evans' Guide: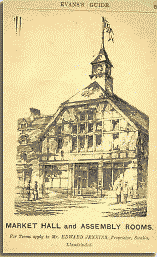 Advert for the Market Hall and
Assembly Rooms, Evans' Guide
Powys County Archives
"The Market Hall and Assembly Rooms were first erected in 1872 by a limited liability company formed by the inhabitants. Like many other Public Companies the Market Hall and Assembly Rooms passed through several stages, until in 1890, the property fell into the hands of Mr Edward Jenkins, Gwalia House, who thoroughly reconstructed both the Market Hall and Assembly Rooms. Both have been embellished inside and outside. The Assembly Room will accommodate six hundred persons."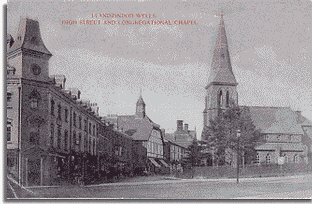 High Street, Llandrindod Wells,
showing the Market Hall in the centre
Powys County Archives

Examples of the kinds of touring shows that would have hired the Hall to entertain the tourists can be found on the Machynlleth Town Hall pages.
Among the buildings constructed to provide entertainments was the Pavilion: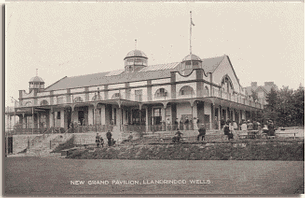 Radnorshire Museum
However, there did seem to be much entertainment gleaned from simply dressing up and putting on shows of one's own or, perhaps, attending a fancy dress ball.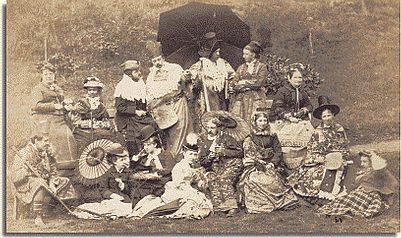 A group in fancy dress
Radnorshire Museum
---