Culture and Entertainment
Walks around Llandrindod

Bandstand, Pump House Hotel, Llandrindod Wells
Radnorshire Museum


Walking was an important recreation for Victorians as it bestowed health benefits as well as affording the opportunity to see the countryside at first hand. Llandrindod had many attractions for the walker.
In the town itself, there were walks around the Rock Park, which housed the chalybeate spring, pump rooms and spa. The Park was the centre of much of the life of the town at that time.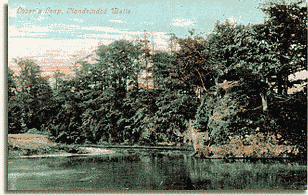 Lover's Leap, Llandrindod Wells
Powys County Archives




Leading from Rock Park was a walk to Lover's Leap, a rock promontory jutting out into the River Ithon, and much beloved of Victorian visitors.

A view of Llandrindod Wells from the Common
Powys County Archives

Another favourite was Llandrindod Common which overlooks the town. Evans' Guide of 1891 comments:

"Llandrindod Common is about five miles long and three-quarters of a mile wide; and though not luxuriant in vegetation, is still far from being of a barren appearance. When the furze is in flower, and you have the distant mountains of Radnorshire in view, the common seems more like a paradise than a desert."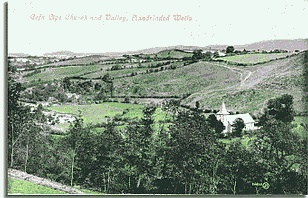 Cefn Llys Church and Valley, Llandrindod Wells
Powys County Archives


Churches and chapels were another common destination, most usually that of St Michael at Cefnllys. The church was in a romantic location in a peaceful wooded valley at the foot of Cefnllys Hill, where an imposing castle once stood.
The church of St Michael had the additional advantage of being approached by a very precarious bridge, known for obvious reasons, as Shaky Bridge :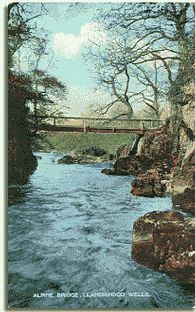 Alpine Bridge. Llandrindod Wells.
Powys County Archives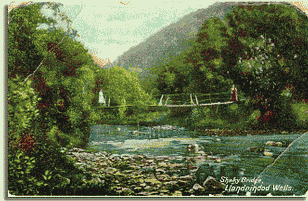 Shaky Bridge, Llandrindod Wells
(The present structure is very solid steel and concrete.)
Powys County Archives

Further along the Ithon valley at Llanbadarn Fawr was another bridge - the Alpine Bridge.
Heywood's Guide from the 1890s notes that "it is a charming object which has attracted many an artist" and Evans describes it as "one of the most charming sights in the neighbourhood of Llandrindod, especially so when the trees are in full verdure."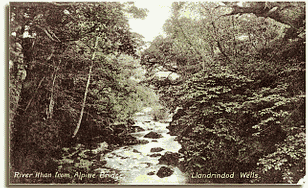 River Ithon from Alpine Bridge, Llandrindod Wells
Powys County Archives
---