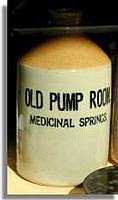 Radnorshire Museum
Health Care
Taking the Waters
Although known to the Romans, the importance of the spa in Britain as a holiday resort was not fully realised until the end of the nineteenth century when the railways came to town. The railway station in Llandrindod was opened in 1865, although there was very little else at the town at that time. The main growth of the town began to take place from the 1870s onwards when it played host to increasing numbers of visitors - not all of them in search of a cure, as there were plenty of other entertainments.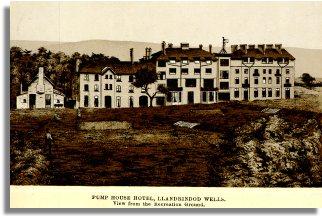 Powys County Archives

However, for those people who did visit the town for its health benefits, there were various waters available.
There were sulphuretted springs available at The Old Pump House Hotel and in the Rock Park, first discovered in 1867.


Powys County Archives

". . . peculiar hissing sound. So great was the quantity of sulphuretted hydrogen gas given off, that it rose in a quick succession of bubbles to the surface of the water, and upon applying a lighted match to them they exploded with a slight blue flame, somewhat to the consternation of the workmen employed, who, from this fact, concluded that the source of the spring was from a region not usually mentioned in polite society. . . ."
Taking these waters was considered to confer a wide variety of health benefits. Dr Bowen Davies, a noted doctor in Llandrindod, wrote: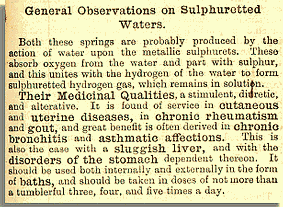 Powys County Archives
General Observations on Sulphuretted Waters.
Both these springs are probably produced by the action of water upon the metallic suphurets. These absorb oxygen from the water and part with sulphur, and this unites with the hydrogen of the water to form sulphuretted hydrogen gas, which remains in solution.
Their Medicinal Qualities, a stimulent, diuretic, and alterative. It is found of service in cutaneous and uterine diseases, in chronic rheumatism and gout, and great benefit is often derived in chronic bronchitis and asthmatic affections. This is also the case with a sluggish liver, and with the disorders of the stomach dependent thereon. It should be used both internally and externally in the form of baths, and should be taken in doses of not more than a tumblerful three, four and five times a day.
and the sulpheretted water could be taken internally or could be used as a bath or shower.
---