Culture & Entertainment
Team Sports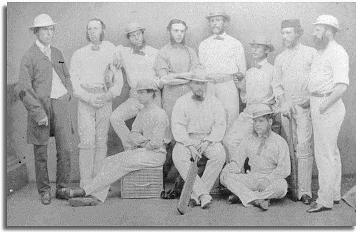 South Wales Cricket Club taken in July 1881 after their
victory over Marylebone Cricket Club and Ground
(otherwise known as Lord's)
Brecknock Museum and Art Gallery
The late nineteenth century saw most of the popular team sports of the modern day, such as cricket, football and rugby, established at club level.
The game of cricket had been in existence well before the Victorian era, although many of today's first class cricket clubs were only established in the nineteenth century. This photo shows the South Wales Cricket Club.
The players listed are:
Top row L-R: Pullen (umpire), Jno Lloyd, H Grace, C W Fryer, P Lloyd, E Grace, S H Belcher, Capt Lloyd.
Bottom row: G C Williams, Capt. Homfray, G Worthington
There were professional cricketers living in Powys at the time of the 1891 census. One lived in Brecon, although the letters "ex" had been pencilled in after his profession:
1891 Census
53 Watton, Brecon
Name
Position in
household
Marital
status
Age
Occupation
Place of Birth
English/Welsh
speaker
John Gill
Head
M
38
Cricket Professional (ex)
Leicestershire Mount Sorrell
English
Emma H Gill
Wife
M
36
Leicestershire Silsby
English
John E Gill
Son
S
16
Mechanic
Leicestershire Mount Sorrell
English
George C Gill
Son
S
15
Scholar
Leicestershire Mount Sorrell
English
Ernest H Gill
Son
S
14
Scholar
Leicestershire Mount Sorrell
English
Another team sport was rugby. The picture below is of the Christ College rugby team, Brecon, in about 1885.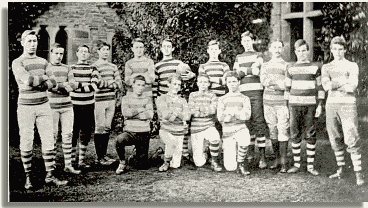 Christ College rugby team, c1885
Brecknock Museum and Art Gallery
Football was also popular. This photograph is of the private boys' school team from Traethllawn in Montgomeryshire.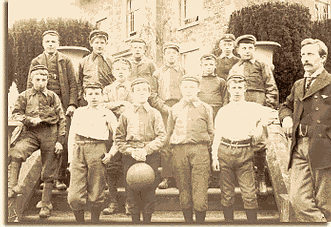 Powysland Museum and Montgomery Canal Centre
An older team from Brecon was photographed in around 1895.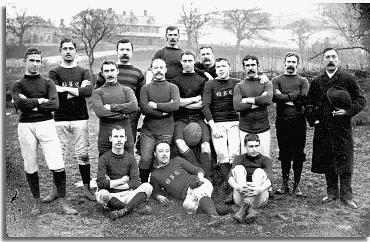 Brecon Football Club
Brecknock Museum and Art Gallery
There is more detailed information about the Newtown football team on a separate page.
However, there was also room for women's teams, as demonstrated in a picture of a ladies' gymnastics team from Brecon, detailed here.
---