Education
Christ College, Brecon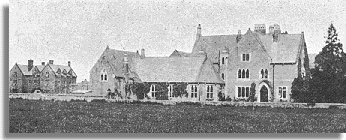 Christ College, Brecon
Powys County Archives
Christ College was founded in its modern form in 1853, although the school site had been in occupation since the thirteenth century as a Dominican friary, and then as a prebendal college with a school. When the modern public school was established, the Christ College scheme of 1855 set out that the Headmaster should be a clerk in holy orders. Although this stipulation was changed in 1880, the headmaster at the time of the 1891 census was still an ordained minister, as were all headmasters until 1956:
1891 Census
Christ College, Brecon
Name
Position in
household
Marital
status
Age
Occupation
Place of Birth
English/Welsh
speaker
Matthew A Bayfield
Head
M
38
Clerk in Holy Orders, Headmaster of Christ College
Warwickshire Edgebaston
English
Helen C Bayfield
Wife
M
30
Cheltenham
English
Edward M Bayfield
Son
3
Malvern
English
Cyrille H D Bayfield
Dau
2
Malvern
English
Amy S Young
Visitor
S
23
Exmouth
English
Rev Bayfield left the school in 1895. He was an enthusiastic recruiter of new pupils for the school, and cast his net fairly widely, as can be seen from the census return for the boys boarding there at the time.
Powys County Archives
As well as Rev Bayfield there were two other teachers who lived at the school in 1891 - one in the college itself and one in the hostel. In addition they had matrons and various servants to assist them.
1891 Census
Christ College
Name
Position in
household
Marital
status
Age
Occupation
Place of Birth
English/Welsh
speaker
Cecil M Horsbargh
House tutor
S
26
Assistant master
Ilkeston Derbyshire
English
Elizabeth Dowding
Matron
S
40
Matron of school house
Somerset Hensbridge
English
Fanny Ogelsby
Serv
S
33
Cook
Staffs Aldridge
English
Emily Pritchard
Serv
S
24
Parlourmaid
Hereford Clehonger
English
Alice M Dent
Serv
S
20
Housemaid
Worcester Malvern Link
English
Margaret Harley
Serv
S
31
Nurse
Worcester Dodford
English
Mary Barnes
Serv
S
20
Kitchenmaid
Gloucester Golden Valley
English
Edith Parton
Serv
S
19
Housemaid
Staffs Ripton
English
Rose Jowell
Serv
S
17
Housemaid
Hereford
English
Jenny Sellers
Serv
S
17
Scullerymaid
Brecon
English
Thomas Williams
Serv
S
26
Butler
Brecon
English
David W Powell
Serv
S
18
Bootboy
Gloucester
English

The Hostel

Edwin S Allen
Head
S
27
Classical Master
Southend
English
Lucy Hancock
Matron
S
35
Matron
Bucks Penn
English
Emily Bradley
Serv
S
21
Cook
Radnor Presteigne
English
Emily S Powell
Serv
S
20
Housemaid
Brecon
English
---