Education
Buttington School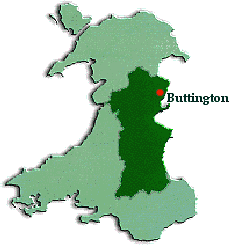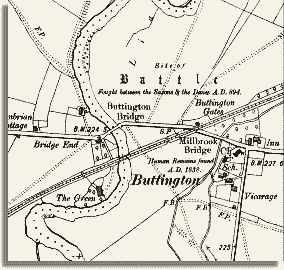 Buttington, near Welshpool, Montgomeryshire
In 1891, Buttington School was under the charge of John R Powell, the headmaster, who had taken up his post on May 7th 1889 and was to continue until February 28th 1893.
1891 Census
School House, Cletterwood, Buttington
Name
Position in
household
Marital
status
Age
Occupation
Place of Birth
English/Welsh
speaker
John R Powell
Head
S
23
Schoolmaster
Hereford, Little Hereford
English
Mr Powell did not teach alone at the school. The local vicar, Rev J Hughes, came in regularly to teach scripture, and a sewing mistress was employed. However, Mr Powell had only a provisional teaching certificate and on December 10th the log book entry reads: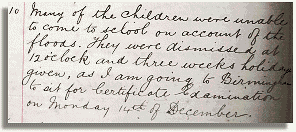 Powys County Archives

"Many of the children were unable to come to school on account of the floods. They were dismissed at 12 o'clock and three weeks holiday given, as I am going to Birmingham to sit for Certificate examination on Monday 14th December. "
Mr Powell faced the usual battles confronting teachers at the time - poor attendances and maintaining standards ready for school inspections.
---