Education
School Attendances
At Buttington School the headmaster Mr Powell found it necessary to close the school on many occasions throughout the year due to a low turnout, although there were various reasons for this. Somewhat exasperated, he commented on March 13th: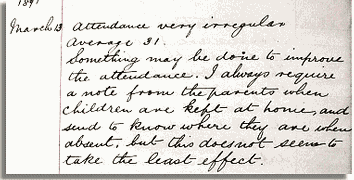 Powys County Archives
"Something must be done to improve the attendance. I always require a note from the parents when children are kept at home, and send to know where they are when absent, but this doesn't seem to take the least effect."
Mr Powell had regular contact with the school attendance officer, Mr Potter, whose task it was to chase up some of the more persistent absentees. One parent promised to do better:

Powys County Archives

"July 3rd Very few turned up this morning. Mrs Clayton promises to send her children to school more regularly in future."
Mrs Clayton had five children to think about:
1891 Census
Church Cottage, Cletterwod, Buttington
Name
Position in
household
Marital
status
Age
Occupation
Place of Birth
English/Welsh
speaker
John Clayton
Head
M
42
Wheelwright
Salop, Chirbury
English
Catherine Clayton
Wife
M
34
Montgomery, Welshpool
English
Richard Clayton
Son
15
Wheelwright's apprentice
Salop, Chirbury
English
Edward Clayton
Son
12
Scholar
Salop, Chirbury
English
Martha Clayton
Dau
10
Scholar
Salop, Chirbury
English
John Lloyd Clayton
Son
7
Scholar
Salop, Chirbury
English
Thomas W H Clayton
Son
2
Montgomery, Buttington
English
Also listed in the school register was a Jane Clayton, another daughter of the family, who would have been 17 at census time and may have been in service.
Sometimes there were legitimate reasons for absence: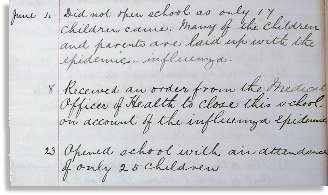 Powys County Archives
"June 4th Did not open school today as only 17 children came. Many children and parents are laid up with the epidemic influenza.
June 8th Received an order from the Medical Officer of Health to close this school on account of the influenza epidemic.
June 23rd Opened the school with an attendance of only 25 children."
The average roll for the school at the time was about 50 children. It must have been doubly exasperating for Mr Powell when the reasons for absence were not quite so legitimate:
Powys County Archives

"May 12th The vicar visited at 10.30 am. Many children absent in the afternoon, having gone to the circus in Welshpool."

Helping at home was another issue:

Powys County Archives

"July 10th The attendance is still very low. Haymaking has commenced and some of the children are kept at home to help."
School was clearly a lower priority for parents at the time, leading to more exasperation from Mr Powell:

Powys County Archives

"July 20th As so few children turned up this morning I could not carry on school"
Hope was at hand with the abolition of school fees from September 1st 1891.

Powys County Archives
"August 14th Average attendance for the week 27.8.
It is to be hoped that the attendance will greatly improve when the Free Education Act comes into force in September"
Improvements in attendance were slow to arrive but eventually the effects of the Act started to be felt. By the end of the year Mr Powell was able to report regular attendances of around 50 children per day.
For attendance problems at Llanbister Cantal School, please click here.
---