Education
Cantal School: Class of '91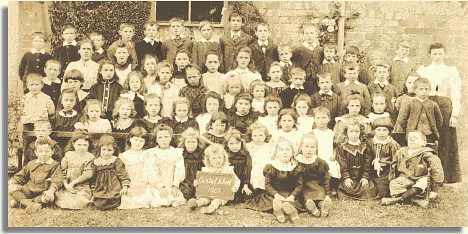 Cantal School, Llanbister, Class of 1891
Powys County Archives
Mr and Mrs Roberts
A second child was born to David and Kate Roberts in 1891, although this was not without its detrimental effect on Kate's health. She was absent on numerous occasions throughout the year and the baby was born on November 8th: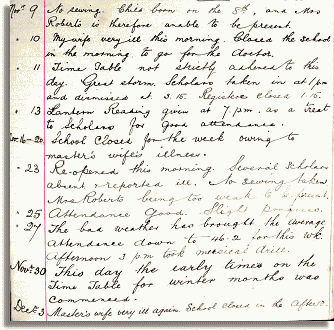 Powys County Archives
"Nov 9th No sewing. Child born on 8th, and Mrs Roberts is therefore unable to be present.

Nov 10th My wife is very ill this morning. Closed the school in the morning to go for the doctor.

Nov 16-20th School closed for the week owing to master's wife's illness.

Nov 23rd Re-opened this morning. Several scholars absent and reported ill. No sewing taken, Mrs Roberts being too weak to be present.

Dec 3rd Master's wife very ill again. School closed in the afternoon."
She was well enough to recommence her teaching duties on December 10th although she became ill again by December 21st.
Her absences did not go unnoticed by the school inspectors. Mr Roberts reported in the log book:
"He also states that in his visit to the school without notice Mrs Roberts was absent. I am to state that if she is to be reckoned as part of the staff for the purposes of Article 105 a qualified substitute should be provided in her absence"
Mr and Mrs Roberts and children eventually left Llanbister Cantal in February 1894 when Mr Roberts was offered a job at Penmorfa School, Caernarvonshire.
The school benefited from the abolition of school fees, as did so many others. Llanbister Cantal seems to have been quite heavily dependant on funds from the parish or from 'charities'.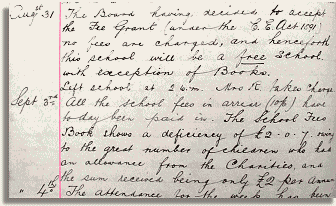 Powys County Archives
"Aug 31st The Board having decided to accept the Fee Grant (under the E.E. Act 1891) no fees are charged and henceforth this school will be a free school with exception of books.

Sept 3rd All the school fees in arrear (10/6) have today been paid in. The School Fees Book shows a deficiency of £2.0.7 owing to the great number of children who had an allowance from the Charities, and the sum received being only £2 per annum."
Books still had to be bought at this time, although Llanbister Cantal tried to find a way around this:
Powys County Archives
"Oct 27th Received books from John Heywood, Manchester. Two dozen assorted books have been purchased for the first class. These are to form a nucleus of Lending Library. Other volumes will again be added."
---