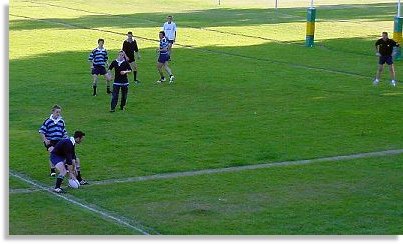 Education
Christ College Diaries: Boarders
These are diaries of 11-13 year olds who live in at Christ College during term time.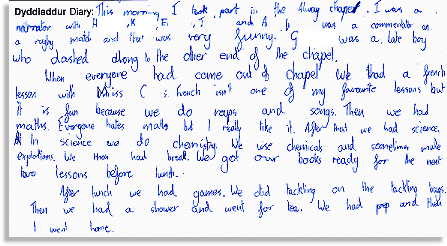 This morning I took part in the Alway Chapel. I was one of the narrators with H__, R__, E__ J__ and A__. D__was a commentator on a rugby match and that was very funny G__ was a late boy who dashed along to the other end of the chapel. When everyone had come out of chapel we had a French lesson. French isn't one of my favourite lessons but it is fun because we do raps and songs. Then we had maths. Everyone hates maths but I really like it. After that we had science. In Science we do chemistry. We use chemicals and sometimes make explosions. Then we had break. We got our books ready for the next 2 lessons before lunch. After lunch we had games. We did tackling on the tackling bags. Then we had a shower and went for tea. We had prep and then I went home.
---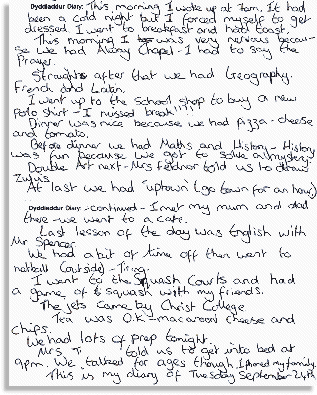 This morning I woke up at 7am. It had been a cold night but I forced myself to get dressed. I went to breakfast and had toast. This morning I was very nervous because we had Alway Chapel - I had to say the prayer. Straight after that we had geography, French and Latin. I went up to the school shop to buy a new polo shirt - I missed break!!!! Dinner was nice because we had pizza - cheese and tomato. Before dinner we had maths and history - history was fun because we got to solve a mystery. Double art next - our teacher told us to draw Zulus. At last we had 'uptown' (go to town for an hour). I met my mum and dad there - we went to a café. Last lesson of the day was English. We had a bit of time off then went to netball (outside) - tiring. I went to the squash courts and had a game of squash with my friends. The jets came by Christ College. Tea was ok. Macaroni cheese. We had lots of prep tonight. Mrs T__ told us to get into bed at 9pm. We talked for ages though. I phoned my family.
---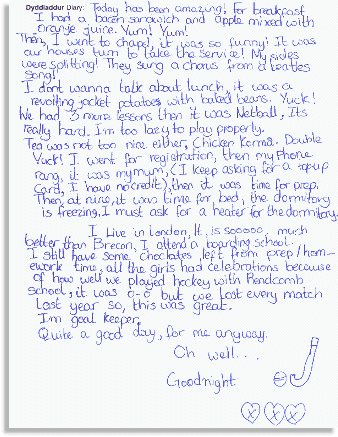 Today has been amazing! For breakfast I had a bacon sandwich and apple mixed with orange juice. Yum, yum! Then I went to chapel. It was so funny! It was our house's turn to take the service! My sides were splitting! They sang a chorus from a Beatles song. I don't wanna talk about lunch, it was a revolting jacket potato with baked beans. Yuck! We had 3 more lessons then it was netball. It's really hard. I'm too lazy to play properly. Tea was not too nice either, chicken korma. Double yuck! I went for registration then my phone rang. It was my mum, (I keep asking for a top-up card, I have no credit), then it was time for prep. Then it was time for bed, the dormitory is freezing. I must ask for a heater for the dormitory. I live in London. It is soooo much better than Brecon. I attend a boarding school. I still have some chocolates left from prep/homework time, all the girls had celebrations because of how well we played hockey with Rendcomb School. It was 0-0 but we lost every match last year, so this was great. I'm goal keeper. Quite a good day, for me anyway.
---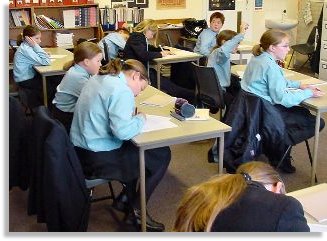 This morning we had Alway Chapel. First I had to act out a young school girl and then I had to stand up in front of hundreds of people and sing 'I'll get by with a little help from my friends'! After chapel we went to a hockey match against Rendcomb. We did really well and drew 0-0. While we were there we had lunch (chips and beans). We arrived back at 6pm time for prep. Yuck! And then we went home.
---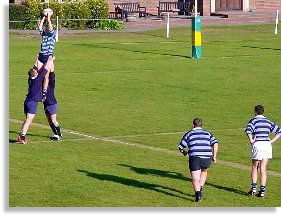 I live in a boarding school because my dad is in the army. It is hard but it can be fun. Today I got up at 6.30. I got ready for the day. I was quite excited because there was a rugby match against Blundalls School. We won and that gave the team a positive feel. Lessons are long. We work until 8 o'clock at night. Tea was not very nice at all. It was lasagne. I hate lasagne but when I got back to the house I did some of my warhammer modelling which is an expensive hobby of mine. We all went to bed at 9.00 and we could still hear fighter jets going over the house practising.
---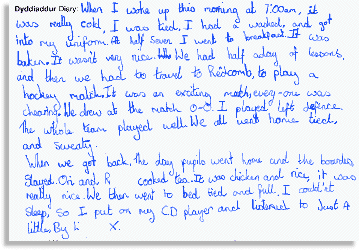 When I woke up this morning at 7.00am it was really cold. I was tired. I had a wash and I got into my uniform. At half seven I went to breakfast. It was bacon. It wasn't very nice. We had half a day of lessons and then we had to travel to Rendcomb to play a hockey match. It was an exciting match, everyone was cheering. We drew at the match 0-0. I played left defence. The whole team played well. We all went home tired and sweaty. When we got back the day pupils went home and the boarders stayed on. O__ and R__ cooked tea. It was chicken and rice. It was really nice. Then we went to bed tired and full. I couldn't sleep, so I put on my CD player and listened to 'Just A Little' by Liberty X.
---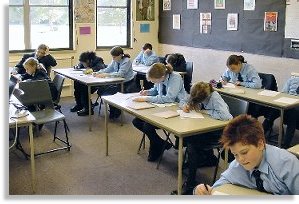 Today I had to get up at 7.00am but I didn't want to because it was too cold, so I got up at 10 past 7, so I was a bit late for breakfast. For breakfast I had 2 pieces of toast. I then went back to my boarding house (Alway) for registration. Then we had to go to chapel. Alway was taking it but I didn't do it. My friends sang 'I Get By With A Little Help From My Friends' by the Beatles. I was having fits of laughter. Then I went to my lessons. My first lesson was geography, then French, then Latin, then Maths, then History, then double Art, then the last lesson we had was English. Then I went back to Alway and talked to my friend who is in a different class to me. At 8pm, time for prep. I had science, English, Maths and RS. After prep I got changed into my jeans and butterfly top. At 9pm first form go to bed.
---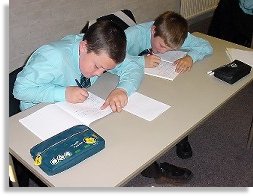 ---