Education
Christ College, Brecon: Census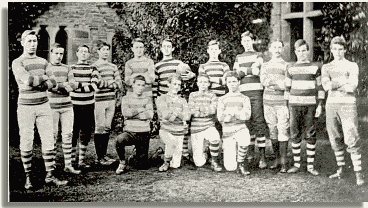 Rugby team, Christ College, Brecon. c1885.
Brecknock Museum & Art Gallery
At the time of the 1891 census there were 73 boys boarding at Christ College in Brecon. The head teacher, Rev M A Bayfield, and his predecessor, Rev D L Lloyd, had gone to some lengths to recruit new pupils for the school from a wide area. The census shows that they did come from many places, mainly from Wales, but very few from Breconshire itself. Of the boys listed in the census who were boarding at the School House and the Hostel in 1891, 65 were from Wales and only 8 from outside the country; they came from Norfolk, Gloucester, Worcester, Herefordshire, Buckinghamshire, Derbyshire, Lincolnshire and Suffolk.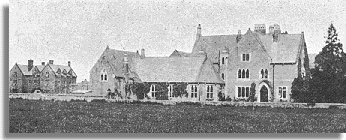 Christ College, Brecon
Powys County Archives
There were 53 boys living in the school house.
1891 Census
Christ College, Brecon
Name
Age
Place of Birth
English/Welsh
speaker
David L Davies
17
Coychurch, Bridgend
Both
Arthur S Edmunds
17
Bedwelly, Mon
English
Herbert C Edwards
13
Aberayron, Cardigan
Both
John H Evans
21
Wymondham, Norfolk
English
Charles A Evans (?)
16
Hewelsfield, Gloucester
English
Henry R Gillespie
14
Cardigan
English
Francis J H Grant
13
Kerry, Mont
English
Charles E M Green
15
Troedyrhiw, Merthyr
English
William L Harris
16
Merthyr
English
James D Harvard
17
Brymawr, Brecon
English
Richard D Harvard
13
Brymnawr, Brecon
Both
John J Herbert
15
Crickhowell
English
Arthur R Hughes
16
Aberystwyth
English
Hugh M Hughes
13
Aberystwyth
English
Arthur R Hughes
16
Aberystwyth
English
Percy C P Ingram
15
Newport
English
William C R Johns
17
Llanstinion, Pembs
Both
Leonard M Johns
15
Llanstinion, Pembs
Both
Lionel J Jones
11
Llawarnam, Newport
English
William G Lace
15
Cardiff
English
John C Lester
15
Llandudno
Both
William D Morgan
18
Llansanffraid, Cardigan
Both
Thomas Morgan
20
Abernant Aberdare
Both
Henry J Morgan
19
Myscymbaurn, Carmarthen
Both
Richard M Mullock
16
Newport Mon
English
William D Perrott
13
Treorky, Glam
Both
William D Morgan
18
Llansanffraid, Cardigan
Both
Charles D Phillips
13
Newport Mon
English
Reginald A Phillips
14
Newport Mon
English
Charles G Phillips
16
Newport Mon
English
James H R Powell
17
Oystermouth, Swansea
Both
Alistair W Powell
18
Oystermouth, Swansea
Both
William B S Powell
11
Sennybridge, Brec
English
William B J Rees
14
Newport Mon
English
Trevor Roberts
14
Malpas Newport Mon
English
Charles B Steel
15
Mon Blaenavon
English
James B Shatton
15
Mon Basseby
English
Joseph H Stratton
17
Mon Basseby
English
Lewis W M Thomas
15
Llandyssul Cardigan
English
David H M Thomas
15
Brecon Sennybridge
Both
Griffith J C Thomas
15
Cardigan Llanarth
Both
George I Thomas
15
Cardiff, Glam
English
Thomas I Thomas
17
Sennybridge, Brecon
Both
Eligur J S Thomas
14
Mon Victoria
English
Thomas J Thomas
16
Mon Tredegar
English
John Thomas
17
Nelson, Llangabon
Both
John B Thompson
13
Worcester
English
Edward J R Trevor
13
Beaumaris
English
Thomas N Trevor
14
Beaumaris
English
Arthur J Turner
15
Herefordshire, Kington
English
Walter M Walters
15
Pontypridd, Glam
English
Frank E Walters
15
Bangor
Both
Percy C Ward
14
Merthyr
English
Henry P Williams
15
Rhyl
English
Henry Williams
16
Llanelly
Both
So, what sort of boy became a Christ College scholar in 1891? Taking a random selection of boys and tracing them back to the 1881 census, it can be seen that they were the children of the rising Victorian professional and middle classes.
Charles Lace was the son of Henry Leigh Lace, a Master Engineer, who lived in Cardiff. Another civil engineer's son was Trevor Roberts of Newport.
Arthur and Hugh Hughes of Aberystwyth were the sons of Arthur Johnson Hughes, an Aberystwyth solicitor. The father of Charles Steel was a Land Agent Auctioneer, Henry C Steel.
Percy Ingram of Monmouth was the son of a shipbroker, Samuel D Ingram.
John Lester's father was Hugh Lester, a wine merchant in Llandudno.
William and Leonard Johns, and Thomas and Edward Trevor were the sons of vicars, Revs Thomas Johns and Trevor Thomas.
---