Education
Year 6 Diary II
The children from a Year 6 class (10-11 year olds) at Trefonnen School were asked to fill in a diary of their day, draw a picture of their room at home and a map of their route to school, and to answer some questions about themselves. This is a boy's diary.
| | |
| --- | --- |
| 7.00am - 9.00am | I was in a huge rush to get dressed and eat my breakfast so I could just watch cartoons! But before I could do that dad said "Wash, and don't forget to brush your teeth." And then I walked downstairs and brushed my teeth and then watched cartoons until school started. |
| 9.00am - 11.00am | I had to finish off all the work from yesterday for quite a while before I got handed a form about all this - pieces of paper to do for homework and for to do now at school. |
| 11.00am - 12.30pm | We were doing some of the school homework at school but we were doing the map of the way we walk to school and I live just up the lane! |
| 12.30pm - 1.30pm | We finished the maps and moved on to favourites. Top Ten favourites of nearly everything. It was solid like hell. I did about ¼ of it in 30 mins! |
| 1.30pm - 3.30pm | We decided to do a bit more with the map, add detail and all that stuff. It was quite hard but we did that until hometime. |
| 3.30pm - 6.00pm | I sat on the table doing loads of homework and then did one sheet at a time, wating for dad to say "Come on we can go out and have tea." And guess what? He did. We went to Burger King and had my favourite burger. |
| 6.00pm - bedtime | We came back and I finished off one of my sheets. One more after this one and then up to bed with him! (More like me up to bed!) And then I'll go to bed to go to sleep and wait for drama tomorrow. It's about a murder on the ship. Who is a millionaire! |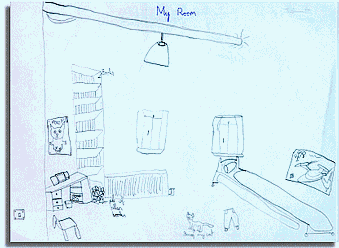 Have you travelled on a train? Where to?
No.
Does your family own a car? Where do you go most often in it?
Kwik Save.
Do you go anywhere by bus?
Yes.
Have you lived in Powys all your life? List the towns/villages (or even cities!) where you have lived.
Caerphilly.
Where are your parents and grandparents from?
Mum and Dad and 3 grandparents - Cardiff. Other grandparent - Blackpool.
Do you speak Welsh at home? Do you speak any language other than English at home?
No.
Where would you like to live when you grow up - and why?
I would like to live in the white house because I think it's haunted and I want to make it haunted!
What do you think you have achieved in the last year?
Much better handwriting, fabulous art work, now better at maths. I've become much better at imagination with writing a story. I've become great at swimming, fabulous at strokes.
What do you most want to achieve in your life?
To become a successful man, get a good job and make my family proud of me, of what I had become.
What is the most memorable thing that has happened to you? (Give dates if you can).
Balding down the hill and going so fast that I grabbed a bush, fell over and scratched my whole body. Went home and my mum put me in a bath of TCP!
If you could go back in time who would you most like to meet and why?
I would like to meet my uncle Russell, died a week after I was born but I never saw him, not once in my whole life. I would like to see him for once.
---