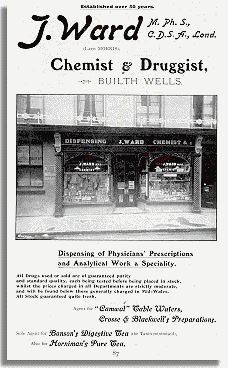 Powys County Archives
Health Care
Chemists in Powys continued
An advertisement for another chemist, this time J Ward in Builth Wells, Breconshire, puts its emphasis on the purity of the ingredients used in its preparations - an important consideration. Cheap and adulterated ingredients in food and drugs were still a real possibility in 1891.
Probably because of the cost of medical care, people also often used patent remedies and home cures.
The census entry for another Powys Chemist - this time William P Marshall of Montgomery - shows that he had a diverse range of responsibilities in the town.
1891 Census
1 Kerry Street, Montgomery
Name
Position in
household
Marital
status
Age
Occupation
Place of Birth
Deaf and dumb
blind/lunatic,
imbecile or idiot
English/
Welsh
speaker
William P Marshall
Head
M
49
Chemist, Druggist
and Postmaster
Warwick, Birmingham
Both
Emma Marshall
Wife
M
45
Montgomery, Kerry
English
Emma J P Marshall
Daur
S
21
Montgomery
English
Reginald E Lloyd
Visitor
S
46
Montgomery
Imbecile
English
Unusually, there is an entry in the penultimate column for Reginald E Lloyd which gives an interesting insight into attitudes towards disability at the time.
According to the census, Brecon boasted a woman chemist:
1891 Census
25 High Street, Brecon
Name
Position in
household
Marital
status
Age
Occupation
Place of Birth
English/Welsh
speaker
Margaret Edwards
Wife
M
26
Chemist and druggist
Breconshire, Llangattock
English
Samuel Arthur
Assistant
S
29
Chemist and druggist
Cornwall, Penzance
English
Emily Lewis
Servant
S
17
Domestic Servant
Breconshire, Builth
English
Charlotte Wilson
Sister in law
S
34
Breconshire, Crickhowell
English
Finally, a chemist in Crickhowell, James P Hughes, had two sons who were both continuing the medical interests of the family:
1891 Census
11 High Street, Crickhowell
Name
Position in
household
Marital
status
Age
Occupation
Place of Birth
English/Welsh
speaker
James P Hughes
Head
M
50
Chemist
Monmouth, Ebbw Vale
Both
E L Hughes
Wife
M
43
Bristol
English
James A Hughes
Son
S
20
Student of medicine
Monmouth, Abercarn
Both
David M Hughes
Son
S
15
Student of medicine
Monmouth, Abercarn
Both
Blanche A M Lewis
Visitor
3
Bristol
English
---