Health Care
Patent Remedies
'Over the counter' remedies were advertised in local newspapers. These examples came from the Brecon & Radnor Express of 1891. Other advertisements were to relieve nervous disorders of every description and lung ailments.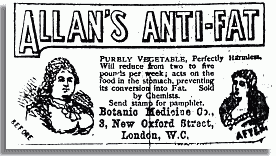 ALLAN'S ANTI-FAT
PURELY VEGETABLE, perfectly Harmless.
Will reduce from two to five pounds per week; acts on the food in the stomach, preventing its conversion into Fat. Sold by Chemists.
Send stamp for pamphlet.
Botanic Medicine Co.,
3, New Oxford Street,
London, W.C.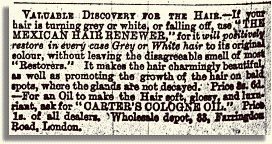 VALUABLE DISCOVERY FOR THE HAIR. - If your hair is turning grey or white, or falling off, use "THE MEXICAN HAIR RENEWER," for it will positively restore in every case Grey or White hair to its original colour, without leaving the disagreeable smell of most "Restorers." It makes the hair charmingly beautiful, as well as promoting the growth of the hair on bald spots, where the glands are not decayed. Price 3s. 6d. - For an Oil to make the Hair soft, glossy, and luxuriant, ask for "CARTER'S COLOGNE OIL." Price 1s of all dealers. Wholesale depot, 33, Farringdon Road, London.

PILES. "PILANTRA," Pile Cure. Immediate relief and a permanent cure guaranteed. Samples free. Postage 3d. Address --- THE GEDDES MANUFACTURING COMPANY, 249, High Holborn. London.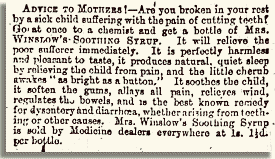 ADVICE TO MOTHERS! -- Are you broken in your rest by a sick child suffering with the pain of cutting teeth? Go at once to a chemist and get a bottle of MRS WINSLOW'S SOOTHING SYRUP. It will relieve the poor sufferer immediately. It is perfectly harmless and pleasant to taste, it produces natural, quiet sleep by relieving the child from pain, and the little cherub awakes "as bright as a button." It soothes the child, it soften the gums, allays all pain, relieves wind, regulates the bowels, and is the best known remedy for dysentery and diarrhoea, whether arising from teething or other causes. Mrs. Winslow's Soothing Syrup is sold by Medicine dealers everywhere at 1s 1 ½ d. per bottle.
---