Health Care
Llandrindod Doctors in 1891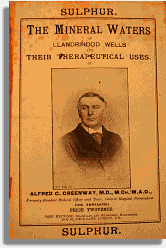 Alfred G Greenway,
M.D., M.Ch., M.A.O.
Powys County Archives
The 1895 Kelly's Directory lists the following doctors as resident in Llandrindod:
William Bowen Davies LRCP (London) Brynarlais, Temple Street
Frances Henry Roberts LRCP (London) Moelteg, South Crescent
John Morgan Evans LRCP (London) Melrose, High Street & Penybont
A Griffiths Greenway MD The Lindens
It became common for doctors to move into Llandrindod for the season, as it was such a popular holiday resort, and then move back to London out of the main holiday season, or even work on cruise ships!
Doctors in town attended their patients in surgeries but home visits were made on horseback, sometimes in carriages, with relief horses being provided to cover outlying villages and farms.
Dr Roberts was a physician and surgeon and medical officer of health:
1891 Census
Caeglass, Llandrindod Wells
Name
Position in
household
Marital
status
Age
Occupation
Place of Birth
English/Welsh
speaker
Francis H Roberts
Head
U
26
Registered General Medical Practitioner
Wales
Mishailston-super-Avon
Both
Anna L Jones
Serv
S
19
Domestic Servant
Wales - Trefilau
Both
Hannah Breeze
Serv
S
21
Domestic Servant
Wales - Bettws
English
The most famous of the doctors in town was Dr Bowen Davies.
---