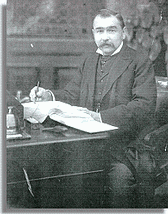 Dr Bowen Davies
Radnorshire Museum
Health Care
Dr William Bowen Davies
Dr Bowen Davies was the first resident doctor in Llandrindod Wells, arriving in 1872. He was born in Llandovery in 1847 and was educated at Llandovery College and St Bartholemew's Hospital. He began his career in medicine as medical officer to the General Infirmary in Jersey. In 1876 he built a house for himself called Brynarlais on Temple Street. It was the first doctor's surgery in the town and later became the Town Hall. It is now the Tourist Information Office; the grotto is where Dr Bowen Davies' conservatory once was.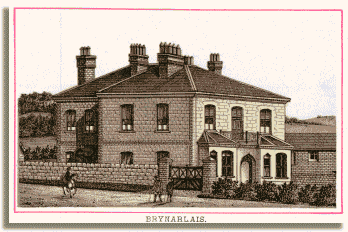 Brynarlais, the home and surgery of Dr Bowen Davies
Powys County Archives
This is an extract from a town guide to Llandrindod Wells dated approximately 1890, where Dr Bowen Davies extols the virtues of the town's spas: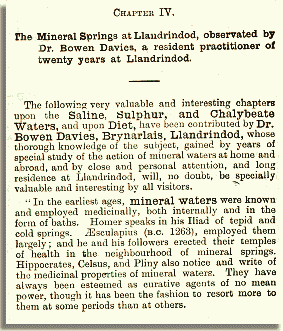 Powys County Archives
CHAPTER IV.
The Mineral Springs at Llandrindod, observated by Dr Bowen Davies, a resident practitioner of twenty years at Llandrindod.

The following very valuable and interesting chapters upon the Saline, Sulphur, and Chalybeate Waters, and upon Diet, have been contributed by Dr. Bowen Davies, Brynarlais, Llandrindod, whose thorough knowledge of the subject, gained by years of special study of the action of minerals waters at home and abroad, and by close and personal attention, and long residence at Llandrindod, will, no doubt, be specially valuable and interesting by all visitors.
"In the earliest ages, mineral waters were known and employed medicinally, both internally and in the form of baths. Homer speaks in his Iliad of tepid and cold springs. Aesculapius (BC 1263), employed them largely; and he and his followers erected their temples of health in the neighbourhood of mineral springs. Hippocrates, Celsus, and Pliny also notice and write of the medicinal properties of mineral waters. They have always been esteemed as curative agents of no mean power, though it has been the fashion to resort more to them at some periods than at others."