Photograph of Miss Beard?
Radnorshire Museum
Home Life
Miss Beard?
Two photographs from the 1890s show the same young woman.
The first was taken by Roberts of Llandrindod, about 1895.
The notes on the back of the picture say
"Mr F Beard, Laburnum House, Llandrindod. Omit Lady sleeves as much as possible in the enlargement, reduce size of sleeves."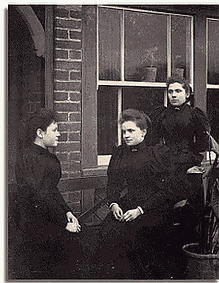 The Misses Beard?
Radnorshire Museum
If the woman in the picture is Mr Beard's daughter she does not appear on the census for 1891 in town. Laburnum House was a lodging house run by Mary A Sheen at the time. However, Llandrindod was expanding rapidly during the 1890s and many people moved there during those years.
The second photograph, also c1895, shows her with two other women - possibly her sisters - all in mourning.
---