Home Life
Recipes from the Newspapers, page 1
---
Condiments

Recipe for chutney,
from Brecon and Radnor Times, 1891
Powys County Libraries
Apple Chutney
Six large sharp apples, three large onions, six ounces sultana raisins, one teaspoonful ground ginger, one saltspoonful red pepper, one desert-spoonful salt, two tablespoonfuls tomato sauce or the pulp of two or three tomatoes, one desertspoonful anchovy essence, one dessertspoonful Indian soy, one tablespoonful salad oil, half a one vinegar. Chop very finely the apples and onions, and chop the raisins roughly. Now put all the ingredients, with the exception of the vinegar, into a mortar and pound togther, and by degrees add the vinegar. When all the ingredients are well blended, put into the wide-mouthed bottles and cork tightly.
---
Soups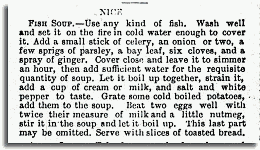 Recipe for fish soup,
from Brecon and Radnor Times, 1891
Powys County Libraries
Fish Soup
Use any kind of fish. Wash well and set it on the fire in cold water enough to cover it. Add a small stick of celery, an onion or two, a few sprigs of parsley, a bay leaf, six cloves, and a spray of ginger. Cover close and leave it to simmer an hour, then add sufficient water for the requisite quantity of soup. Let it boil up together, strain it, add a cup of cream or milk,a nd salt and white pepper to taste. Grate some cold boiled potatoes, add them to the soup. Beat two eggs well with twice their measure of milk and a little nutmeg, stir it in the soup and let it boil up. This last part may be omitted. Serve with slices of toasted bread.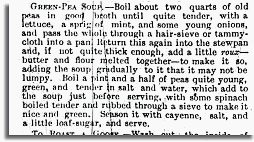 Recipe for green pea soup,
from Brecon and Radnor Times, 1891
Powys County Libraries
Green Pea Soup
Boil about two quarts of old peas in good broth until quite tender, with a lettuce, a sprig of mint, and some young onions, and pass the whole through a hair-sieve or tammy-cloth into a pan. Return this again into the stewpan and , if not quite thick enough, add a little roux - butter and flour melted together - to make it so, adding the soup gradually to it that it may not be lumpy. Boil a pint and a half of peas quite young, green, and tender in salt and water, which add to the soup just before serving, with some spinach boiled tender and rubbed through a sieve to make it nice and green. Season it with cayenne, salt, and a little loaf-sugar, and serve.
Continue to next page.
---