Home Life
Recipes from the Newspapers, page 2
Main Courses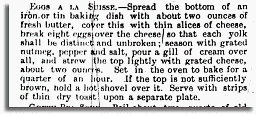 Recipe for eggs a la suisse,
from Brecon and Radnor Times, 1891
Powys County Libraries
Eggs a la Suisse
Spread the bottom of an iron or tin baking dish with about two ounces of fresh butter, cover this with thin slices of cheese, break eight eggs over the cheese so that each yolk shall be distinct and unbroken; season with grated nutmeg, pepper and salt, pour a gill of cream over all, and strew the top lightly with grated cheese, about two ounces. Set in the oven to bake for a quarter of an hour. If the top is not sufficiently brown, hold a hot shovel over it. Serve with strips of thin, dry toast upon a separate plate.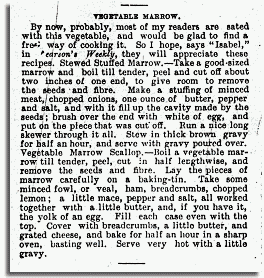 Recipe for marrow,
from Brecon and Radnor Times, 1891
Powys County Libraries
Stewed stuffed marrow
Take a good-sized marrow and boil till tender, peel and cut off about two inches of one end, to give room to remove the seeds and fibre. Make a stuffing of minces meat, chopped onions, one ounce of butter, pepper and salt, and with it fill up the cavity made by the seeds; brush over the end with white of egg, and put on the piece that was cut off. Run a nice long skewer through it all. Stew in thick brown gravy for half an hour, and serve with gravey poured over.
Vegetable marrow scallop
Boil a vegetable marrow till tender, peel, cut in half lengthwise, and remove the seeds and firbre. Lay the pieces of marrow carefully on a baking-tin. Take some minced fowl, or veal, ham, breadcrumbs, chopped lemon; a little mace, pepper and salt, all worked togther with a little butter, and, if you have it, the yolk of an egg. Fill each case even with the top. Cover with breadcrumbs, a little butter, and grated cheese, and bake for half an hour in a sharp oven, basting well. Serve very hot with a little gravy.
---
Cakes, Biscuits etc.


Recipe for English Pudding (Hour),
from Brecon and Radnor Times, 1891
Powys County Libraries
English Pudding
One pound each of currants, raisins (stoned) and suet, half a pound of citron, one cupful of molasses, one pint of boiling milk, one scant teaspoonful each of cinnamon, allspice, and salt, half a teaspoonful of clove, the same of soda, and one nutmeg; six eggs, reserving one white for sauce. Boil six hours. Add flour to stiffen so that a fork will tank upright in the mixture.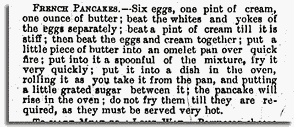 Recipe for French Pancakes,
from Brecon and Radnor Times, 1891
Powys County Libraries
French Pancakes
Six eggs, one pint of cream, one ounce of butter; beat the whites and yokes of the eggs separately; beat a pint of cream till it is stiff; then beat the eggs and cream together; put a little piece of butter into an omelet pan over quick fire; put into it a spoonful of the mixture, fry it very quickly; put it into a dish in the oven, rolling it as your take it from the pan, and putting a little grated sugar between it; the pancake will rise in the oven; do not fry them till they are required, as they must be served very hot.

Recipe for Lemon Honey,
from Brecon and Radnor Times, 1891
Powys County Libraries
Lemon Honey
One grated lemon, rind and all, one and one-half cups of sugar, one-half cup of butter, one cut of water, two tablespoonfuls of corn starch. Cook till thick, stirring while cooking. Nice as a sauce or to put between layer cake.
---