"Anne Bishop on her oath saith
"I am the wife of the last witness, and look after the Church. On the 16th the prisoner came to my house and accused me of having his stones moved and put on Davies' grave and he said that we had had his name taken off and put Davies on them, and I told him that it was nothing of the kind that his stones was all right but he would not hear anything but what we had done so, and said his own had been there 50 years. I asked him if I should go and show him his mistake but he would not go. The tombstones of his family are there now in their proper place. He said when he left the house that he would break them. After he left I heard a noise of stones being knocked, but I did not believe he was doing it. I went into the churchyard and saw him standing by the grave with the tomb stones broken. They appeared to have been recently broken.
I had seen the stones at 5 and they were whole and it was 7 when I saw them broken and the prisoner by them there was a large square stone out of a tomb lying near and from what I saw it was my impression that this stone had been used to break the others. The prisoner went away when I went there but by the following morning the marble tombstone had been pulled down. I gave information that Evening to the persons who were related to those over whom the stones had been placed as I thought they might blame someone else."
Witness:-
David W E Thomas
X The mark
of Anne
Bishop"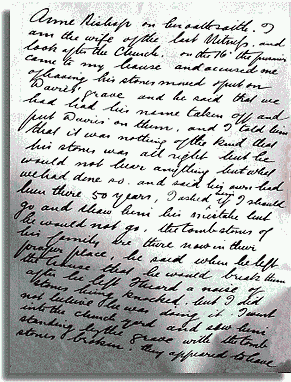 First page of Anne Bishop's evidence
Powys County Archives