Law and Order
Police Sergeant Stephen Davies
At the time of the census, PS Davies was living at the Police Station in Brecon.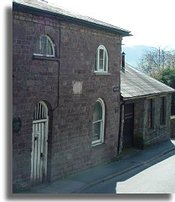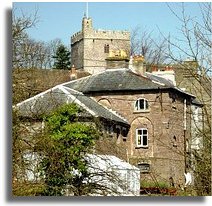 1891 Census
Police Station, Brecon

Name

Position in
household

Marital
status

Age

Occupation

Place of birth

English/Welsh
speaker

Stephen Davies
Head
M
48
Police Sergeant
Talgarth, Brecs
English/Welsh
Mary Davies
Wife
M
51
Glasbury, Radnorshire
English
Minnie Davies
Dau
S
18
Draper's assistant
Crickhowell,Brecs
English
William Davies
Son
S
15
Taylor's apprentice
Devynock, Brecs
English
Stephen Davies
Son
S
12
Ystradgynlais, Brecs
English
Clara H Davies
Dau
S
9
Hay, Brecs
English
Sergeant Davies had clearly been stationed in several places around Breconshire, as his children had all been born in different parts of the county.
He was called into the case on 17 June 1891 and deposed to the magistrates:


Powys County Archives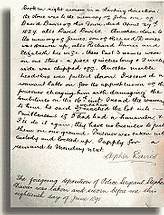 Deposition of PS Stephen Davies
Click on image to see enlarged version
Powys County Archives





"This deponent Stephen Davies on his oath, saith as follows:
I am a police sergeant in this Borough. From information received I visited the Priory Churchyard yesterday evening in company with the Superintendent and J J Frost. I there saw one headstone, pulled up and broken right across in a slanting direction: the stone was to the memory of John son of David Davies of this Town, died April 27th 1829 also David Davies. Another stone to the memory of James, son of Richard Davies was drawn up, also Richard Davies and Elizabeth his wife - these last 3 names were on one stone - a piece 9 inches long and 2 inches wide was chipped off. Another marble headstone was pulled down. I received a warrant later on for the apprehension of the prisoner charging him with damaging the tombstones on the 16th inst.
I read the warrant to him, he said I would have smashed the lot into smithereens if I had had a hammer, and I'll do it again; they have no business to put them on our ground. Prisoner was taken into custody and locked up. I apply for a remand to Monday next." (signed) Stephen Davies
The foregoing deposition of Police Sergeant Stephen Davies was taken and sworn before me this eighteenth day of June 1891."