Law and Order
Quarter Sessions: J J Frost v Thomas Price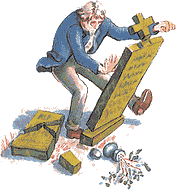 The case of J J Frost v Thomas Price was indeed unusual, when most cases at the quarter sessions involved theft of clothing or money, theft of livestock, and occasionally assault. The charge against Price was that he
"unlawfully and maliciously did destroy a memorial of the dead to wit a tomb-stone in the churchyard adjoining the Priory Church and did throw down another memorial of the dead to wit another tombstone in the said churchyard."
When the case appeared before the Petty Sessions, the 26 June 1891 edition of the Brecon and Radnor Express reported: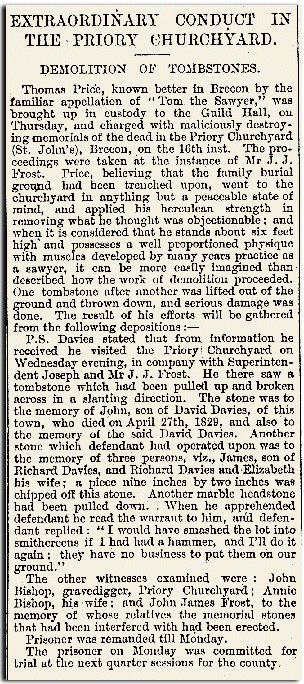 "Thomas Price, known better in Brecon by the familiar appellation of "Tom the Sawyer," was brought up in custody to the Guild Hall, on Thursday, and charged with maliciously destroying memorials of the dead in the Priory Churchyard (St. John's), Brecon, on the 16th inst. The proceedings were taken at the instance of Mr J J Frost. Price, believing that the family burial ground had been trenched upon, went to the churchyard in anything but a peaceable state of mind, and applied his herculean strength in removing what he thought was objectionable; and when it is considered that he stands about six feet high and possesses a well proportioned physique with muscles developed by many years practice as a sawyer, it can be more easily imagined than described how the work of demolition proceeded. One tombstone after another was lifted out of the ground and thrown down, and serious damage was done. The result of his efforts will be gathered from the following depositions:-
P S Davies stated that from information he received he visited the Priory Churchyard on Wednesday evening, in company with Superintendent Joseph and Mr J J Frost. He there saw a tombstone which had been pulled up and broken across in a slanting direction. The stone was to the memory of John, son of David Davies, of this town, who died on April 27th, 1829, and also to the memory of the said David Davies. Another stone which defendant had operated upon was to the memory of three persons, viz., James, son of Richard Davies, and Richard Davies and Elizabeth his wife; a piece nine inches by two inches was chipped off this stone. Another marble headstone had been pulled down. When he apprehended defendant he read the warrant to him, and defendant replied: "I would have smashed the lot into smithereens if I had had a hammer, and I'll do it again; they have no business to put them on our ground."
The other witnesses examined were: John Bishop, gravedigger, Priory Churchyard; Annie Bishop, his wife; and John James Frost, to the memory of whose relatives the memorial stones that had been interfered with had been erected.
The prisoner was remanded till Monday.
"The prisoner on Monday was committed for trial at the next quarter sessions for the county."
Police Sergeant Davies was stationed at the nearby police station on the Postern, Brecon. J J Frost lived nearly across the road from the Shire Hall, on the Watton.
For The Brecon and Radnor Express report of the quarter sessions trial, please continue to Frost v Price.
---