Law and Order
John James Frost
John James Frost was the nearest relation to those whose tombstones had been desecrated. He was contacted by Mrs Bishop soon after the event. He stated he lived with his mother at The Watton, but was not there at the time of the census in April. His deposition appears below: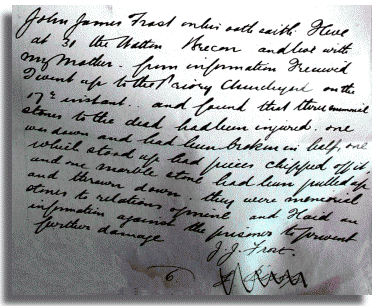 Deposition of J J Frost
Powys County Archives



"John James Frost on his oath saith
I live at 31 the Watton Brecon and live with my Mother. From information I received I went up to the Priory Churchyard on the 17th instant and found that three memorial stones to the dead had been injured. One was down and had been broken in half, one which stood up had pices chipped off it, and one marble stone had been pulled up and thrown down. They were memorial stones to relations of mine and I laid on information against the prisoner to prevent further damage.
(signed) J J Frost"