Law and Order
Thomas Price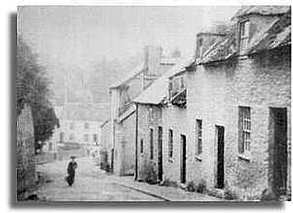 Priory Hill in the 1890's
Powys County Archives
Thomas Price was well known in Brecon as 'Tom the Sawyer'. Although the case papers do not give an address for him, there is a Thomas Price in the 1891 census of about the same age. He lived on Priory Hill, directly across the road from the Priory.
Thomas Price's home is out of view near the bottom of the hill, on the right.

Priory Hill today
1891 Census
14 Priory Hill, Brecon
Name
Position in household
Marital
status
Age
Occupation
Place of birth
English/Welsh speaker
Thomas Price
Head
M
60
Cabinet Maker & Upholsterer
Brecknock Brecon
English
Elizabeth Price
Wife
M
63
Pembrokeshire Tenby
English
Rollo Price
Son
S
30
School Master
Brecknock Brecon
English
Frank Price
Son
S
28
Musician
Brecknock Brecon
English


Price's entry in the Calendar of Prisoners
Powys County Archives
The Thomas Price involved in J J Frost v Thomas Price was 66 years old at the time of the offence, and a sawyer.


Powys County Archives
He admitted his guilt at the Quarter Sessions:
"I broke the stone that was there because the other one had been taken from there.