Law and Order
Reporting the Trial
The case was tried at the Midsummer Quarter Sessions on 30th June 1891. It was reported in the Brecon & Radnor Express of 3rd July 1891: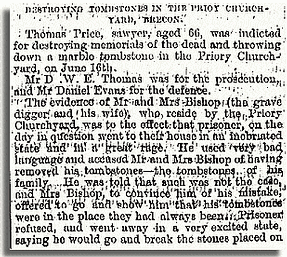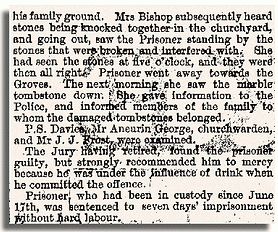 "DESTROYING TOMBSTONES IN THE PRIOY CHURCHYARD, BRECON
Thomas Price, sawyer, aged 66, was indicted for destroying memorials of the dead and throwing down a marble tombstone in the Priory Churchyard, on June 16th.
Mr D W E Thomas was for the prosecution, and Mr Daniel Evans for the defence.
The evidence of Mr and Mrs Bishop (the grave digger and his wife), who reside by the Priory Churchyard, was to the effect that prisoner, on the day in question went to their house in an inebriated state and in a great rage. He used very bad language and accused Mr and Mrs Bishop of having removed his tombstones - the tombstones of his family. He was told that such was not the case, and Mrs Bishop, to convince him of his mistake, offered to go and show him that his tombstones were in the place they had always been. Prisoner refused, and went away in a very excited state, saying he would go and break the stones placed on his family ground. Mrs Bishop subsequently heard stones being knocked together in the churchyard, and going out, saw the Prisoner standing by the stones that were broken and interfered with. She had seen the stones at five o-clock, and they were then all right. Prisoner went away towards the Groves. The next morning she saw the marble tombstone down. She gave information to the Police, and informed members of the family to whom the damaged tombstones belonged.
P S Davies, Mr Aneurin George, churchwarden, and Mr J J Frost, were examined.
The Jury having retired, found the prisoner guilty, but strongly recommended him to mercy because he was under the influence of drink when he committed the offence.
Prisoner, who had been in custody since June 17th, was sentenced to seven days' imprisonment without hard labour."
The Midsummer Quarter Sessions were held at the Shire Hall, Brecon before Sir Joseph Russell Bailey, Bart., MP, Chairman, James Williams, and Rees Powel, Esq. As can be seen from the newspaper report, the Chairman made particular reference to Price's case in his address to the public. Price is listed in the Calendar of Prisoners as being a sawyer, aged 66, able to read and write. The witnesses in the case, John and Anne Bishop, lived near by the Priory. The verdict of the jury was guilty, and he was sentenced to 7 days' imprisonment, without hard labour. Although the case papers don't state where he was sent, it was likely he was sent to Brecon Gaol.
---