Law and Order
Rose Cottage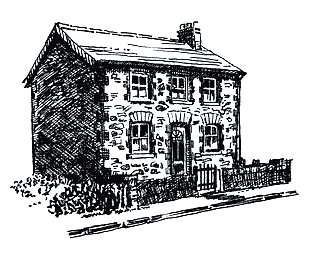 At the time of the census in 1891, Rose Cottage, Llandrindod Wells was occupied by:
1891 Census
Rose Cottage, Llandrindod Wells
Name
Position
in household
Marital
status
Age
Occupation
Place of birth
English/Welsh
speaker
Henry Harris
Head
M
64
Railway Plate
Llandrindod
English
Margaret Harris
Wife
M
61
Llandrindod
English
Margaret Harris
Dau
S
27
Llandrindod
English
Charlotte Griffiths
Visitor
S
20
Llandrindod
English
Although it was not listed on the census, Margaret Harris was a laundress who took home washing from the patients at the Cottage Hospital. She had taken home a vest to wash belonging to Francis Cooke who was resident in the hospital. It was stolen from the hedge outside her house where it had been hung out to dry on the morning of 16th December 1891.
---