Law and Order
Petty Sessions: Regina v. Edward Bridgett

Powys County Archives
The case of Regina v Bridgett is taken from the Court Minute book of the Cefnllys Petty Sessions of 18 December 1891. Magistrates in this court typically heard cases of theft, larceny, assault, non-attendance of a child at school, animals straying, and orders in bastardy. (An order in bastardy was a case where a single mother applied for maintenance from the father.)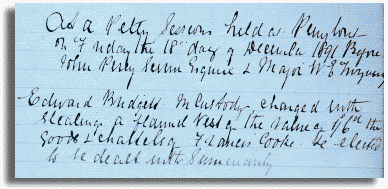 Powys County Archives
"At a Petty Sessions held at Penybont on Friday the 18th day of December 1891 Before John Percy Severn Esquire and Major W E Twyning.
Edward Bridgett In Custody, charged with stealing a flannel Vest of the value of 1s/6d the goods and chattels of Francis Cooke. He elected to be dealt with Summarily."
Bridgett was accused of stealing a woollen vest from the hedge of Rose Cottage, Llandrindod Wells on the morning of 14 December 1891. The vest had been placed on the hedge early that morning by Margaret Harris, a laundress. Her evidence is clear: "I saw you pass my house on Wednesday morning the 16th instant about twenty minutes to nine o'clock."
Shortly afterwards she noticed the vest was missing, and contacted the police. PC William Morris Vaughan dealt with the case and apprehended Bridgett 12 miles away in Llanbadarn Fynydd.
A statement was also taken from Francis Cooke, the owner of the vest. He was resident at Llandrindod Wells Cottage Hospital "for my health".
It seems clear from the evidence that Bridgett stole the vest, because in the words of PC Vaughan: "I searched him and found the vest I now produce on his back. He was wearing it."
Bridgett elected to be dealt with summarily, i.e. without a jury. Accordingly, the two magistrates, J Percy Severn and Maj. W E Twyning found Edward Bridgett guilty of the charge and sentenced him to fourteen days' hard labour at Hereford Prison.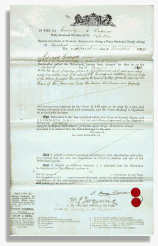 Powys County Archives
Cases of greater import were forwarded on to the Quarter Sessions. The case of J J Frost v Thomas Price was just such a one.
---