Social Conditions
Forden Workhouse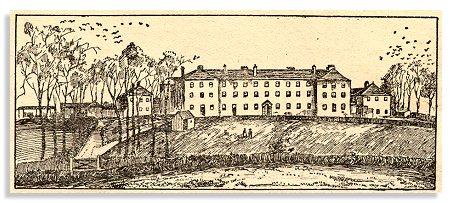 Forden Workhouse in 1907
Powys County Archives
Forden was a large workhouse serving 20 parishes. On the 1891 census there were 50 men, 34 women , and 36 children - a total of 120 - residing there.
Compared to Llanfyllin Workhouse, it had a large staff who were resident in the workhouse.
1891 Census
Forden workhouse
Name
Position in
household
Marital status
Age
Occupation
Place of Birth
English/ Welsh
speaker
George Fortune
Head
M
42
Master of workhouse
Welshpool, Montgomery
English
Fanny Fortune
Wife
M
42
Matron of workhouse
Kerry Parish, Montgomery
English
Norah Grey Fortune
Daughter
5
Scholar
Welshpool, Montgomery
English
William Perey Fortune
Son
1
Forden parish, Montgomery
Attie Eliza Milnes
Niece
13
Scholar
Kerry Parish, Montgomery
English
Jane Lewis
Schoolmistress
S
35
Schoolmistress
Forden, Montgomery
English
Mary Bright
Officer
S
21
Seamstress and porteress
Chirbury, Salop
English
Margaret Jane Breeze
Officer
S
30
Nurse
Welshpool, Montgomery
English
David Abraham Breeze
Officer
S
22
Porter
Llansantffraid, Montgomery
English
Charlotte Breeze
Serv
S
General cook
Kerry, Montgomery
English
Elizabeth Rogers
Serv
S
65
General servant
Montgomery, Montgomeryshire
English
In addition to the Master, Matron, Porter and nurses that Llanfyllin employed, Forden was able to retain its own schoolmistress, cook, general servant and seamstress/porteress.
Attitudes to workhouses were gradually changing, as can be seen in this comment from the 'Rambler's Weekly Diary' column of the Montgomeryshire Express & Radnor Times of 24 February 1891:
| | |
| --- | --- |
| Powys County Libraries | "What a wonderful advance humanizing influences and ideas have made during the last quarter of a century. I don't know whether any of Stead's "Helpers" have been moving about in this locality, but the amount of interest taken in the comfort and enjoyments of the poorer classes to-day, as compared with what it was formerly, is most remarkable. The Forden Board of Guardians - a body which does not as a rule act upon the side of generosity - has decided to purchase footballs, cricketing tack, skipping ropes, etc., for the use of the children in the workhouse. This is a step in the right direction, and one which will be warmly commended by all who are human beings first and ratepayers afterwards. The children of English workhouses in the past have understood (in all its severity) the law which visits the sins of the fathers upon the children, and poverty has been regarded as a crime to be punished in common with theft and vice of every kind; but I am glad to find that guardians such as Mr Miller and the Rev J Sawer have adopted a wiser and more human view of their duties." |
---