Social Conditions
Workhouse Staff
The census shows that Llanfyllin workhouse had 5 members of staff:
1891 Census
Llanfyllin Workhouse
Name
Position in
household
Marital
status
Age
Occupation
Place of Birth
English/Welsh
speaker
Thomas Askey Jones
Head
M
40
Master of Workhouse
Llanfyllin
Both
Mary Askey Jones
Wife
M
42
Matron of workhouse
Llanrhaiadr,
Montgomeryshire
Both
Heber A Askey Jones
Son
S
12
Scholar
Llanfyllin
Both
Norah Askey Jones
Dau
S
10
Scholar
Llanfyllin
English
Ethel M Askey Jones
Dau
S
8
Scholar
Llanfyllin
English
Mary M Askey Jones
Dau
S
6
Scholar
Llanfyllin
English
Ellen Davies
Nurse
S
37
Head nurse
Guilsfield
English
Jane Jones
Nurse
S
24
Infants nurse
Guilsfield
English
John Griffiths
Serv
S
21
Porter
Llanfyllin
Both
Thomas Askey Jones as master was responsible for the day to day running of the workhouse, admitting inmates and dealing with day to day matters affecting the inmates. He was also accountable to the Board of Guardians who had fortnightly meetings to deal with financial issues and decide on more important issues affecting the workhouse.
Workhouse Masters were required to pay for the upkeep of their children living in the workhouse with them, if they used workhouse rations.
In this case, the Master would have been assisted by his wife as matron, although if a workhouse were without a nurse, a matron would have performed this function as well.
Llanfyllin was fortunate in having 2 nurses in residence, one for general nursing duties and one to look after infants. It was not until 1919 that nurse training was legally formalised and nurses had to be registered with the Nurse Training Council. It's therefore unclear whether Ellen Davies and Jane Jones would have been qualified nurses in the modern sense although these became more commonplace as the 19th Century progressed. Jane Jones left the workhouse in April and was replaced by Elizabeth Hughes: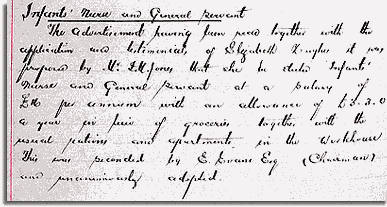 Powys County Archives
"Infants' Nurse and General Servant
The advertisement having been read together with the application and testimonials of Elizabeth Hughes it was proposed by Mr J M Jones that she be elected infant's nurse and general servant at a salary of £16 per annum with an allowance of £3.3.0 a year in lieu of groceries together with the usual rations and apartments in the workhouse. This was seconded by E Evans Esq (Chairman) and unanimously adopted."
Ellen Davies also left the Union's employ later that year.
The porter had many and varied responsibilities of a practical nature, although the Master had had a few problems with John Griffiths' predecessor.

Powys County Archives
"The Workhouse Porter
The Master having preferred two distinct charges of drunkenness against Maurice Jones the Workhouse porter as well as charges of neglect of duty and insubordination which charges the porter admitted to be correct it was resolved that he be served with a notice terminating his appointment this day month."
Consequently it became necessary to advertise his post: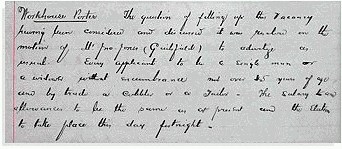 Powys County Archives
"Workhouse Porter The question of filling up the vacancy having been considered and discussed it was resolved on the motion of Mr Jno. Jones (Guilsfield) to advertize as usual. Every applicant to be a single man or a widower without encumbrance not over 45 years of age and by trade a cobbler or a tailor. The salary and allowances to be the same as at present and the election to take place this day fortnight."
Presumably a porter who could double up as a tailor or cobbler would save money for the Union. At the next meeting John Griffiths was appointed:


Powys County Archives
[(to commence] "duties forthwith) at the salary of £18.4.0 per annum with an allowance of £3.3.0 a year in lieu of groceries together with the usual rations, apartments and washing in the workhouse.
The Clerk reported that Henry Halman of Ellesmere Road St Martins who had sent in an application had withdrawn it that morning, by Telegram.
Griffiths was requested to learn the cobbling at once."
In addition to the resident staff, the Union also employed various other people. A larger workhouse, such as that at Forden, retained various other members of staff who lived within the Workhouse itself.
Of course, in all tasks to be performed at the workhouse, the inmates would be expected to assist.
---