Social Conditions
Other Charitable Activities
As well as the workhouses, others provided relief for the poor or disadvantaged, as can be seen from these items from the Montgomeryshire Express & Radnor Times.

13 October 1891
"Machynlleth. Treat. - The Marchioness of Londonderry has generously presented the grown up male inmates of the workhouse with pipes and tobacco."
These two items are from January 1891: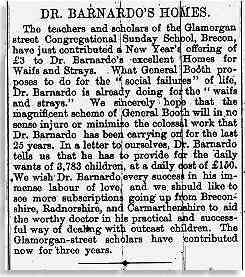 Powys County Libraries
"Dr. Barnardo's Homes.
Glamorgan Street Congregational Sunday School, Brecon have contributed £3 to Dr Barnardo's excellent Homes for Waifs and Strays. What General Booth proposes to do for the "social failures" of life, Dr Barnardo is aleady doing for the "waifs and strays". We sincerely hope that the magnificent scheme of General Booth will in no sense injure or minimise the colossal work that Dr Barnardo has been carrying on for the last 25 years. In a letter to ourselves, Dr Barnardo tells us that he has to provide for the daily wants of 3,783 children, at a daily cost of £150. We wish Dr Barnardo every success in his immense labour of love, and we should like to see more subscriptions going up from Breconshire, Radnorshire and Carmarthenshire to aid the worthy doctor in his practical and successful way of dealing with outcast children. The Glamorgan-street children have contributed now for 3 years."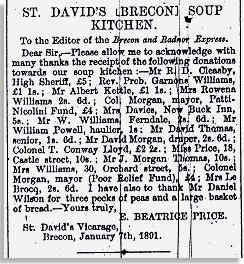 Powys County Libraries
"ST. DAVID'S (BRECON) SOUP KITCHEN
To the Editor of the Brecon and Radnor Express.
Dear Sir, -- Please allow me to acknowledge with many thanks the receipt of the following donations towards our soup kitchen: -- Mr R D Cleasby, High Sheriff, £5; Rev. Preb. Garnons Williams, £1 1s; Mr Albert Kettle, £1 1s; Mrs Rowena Williams 2s. 6d.; Col. Morgan, mayor, Patti-Nicolini Fund, £4; Mrs Davies, New Buck Inn, 5s.; Mr W. Williams, Ferndale, 2s. 6d.; Mr William Powell, haulier, 1s; Mr David Thomas, senior, 1s. 6d.; Mr David Morgan, draper, 2s. 6d.; Colonel T. Conway Lloyd, £2 2s.; Miss Price, 18, Castle street, 10s.; Mr J. Morgan Thomas, 10s.; Mrs Williams, 30, Orchard street, 5s.; Colonel Morgan, mayor (Poor Relief Fund), £4; Mrs. Le Brocq, 2s. yd. I have also to thank Mr. Daniel Wilson for three pecks of peas and a large basket of bread. -- Yours truly,
E. BEATRICE PRICE.
St. David's Vicarage,
Brecon, January 7th, 1891."