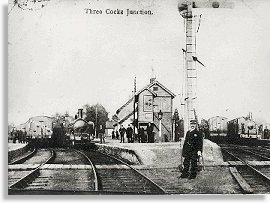 Three Cocks Junction
Brecknock Museum and Art Gallery



Transport
Railway agents and canvassers
Railway agents undertook work on behalf of the railway companies, for instance in arranging transport of goods and materials by railway or delivery of parcels.
Samuel Rayson was a railway agent:
1891 Census
7 Bowen Terrace, Brecon
Name
Position in
household
Marital
status
Age
Occupation
Place of Birth
English/Welsh
speaker
Samuel Rayson
Head
M
45
Railway Agent
Leicestershire, Hinkley
English
Rebeckah Rayson
Wife
M
58
Breconshire Builth
English
Grace E Rayson
Dau
S
20
At home
Derbyshire
English
James Morgan acted as an agent and canvasser. Canvassers were employed to act as salesmen for the railway companies, offering and explaining the facilities available to companies and trying to secure their custom.
1891 Census
10 Wheat Street, Brecon
Name
Position in
household
Marital
status
Age
Occupation
Place of Birth
English/Welsh
speaker
James Morgan
Head
M
37
Railway Canvasser
and Agent
Breconshire Devynock
Both
Sarah A Morgan
Wife
M
36
Breconshire Brecon
English
Claude H Morgan
Son
S
10
Scholar
Breconshire Brecon
English
---