Transport
Railway Safety
Below is a newspaper report from the Brecon and Radnor Express in 1891 regarding a fatal accident that befell an employee of the Barry railway.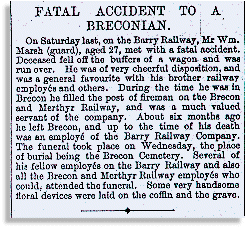 Powys County Libraries
FATAL ACCIDENT TO A BRECONIAN.
On Saturday last, on the Barry Railway, Mr Wm. Marsh (guard), aged 27, met with a fatal accident. Deceased fell off the buffers of a wagon and was run over. He was of very cheerful disposition, and was a general favourite with his brother railway employes and others. During the time he was in Brecon he filled the post of fireman on the Brecon and Merthyr Railway, and was a much valued servant of the company. About six months ago he left Brecon, and up to the time of his death was an employe of the Barry Railway Company. The funeral took place on Wednesday, the place of burial being the Brecon Cemetery. Several of his fellow employes on the Barry Railway and also all the Brecon and Merthyr Railway employes who could, attended the funeral. Some very handsome floral devices were laid on the coffin and the grave.
---