Transport
Travelling by train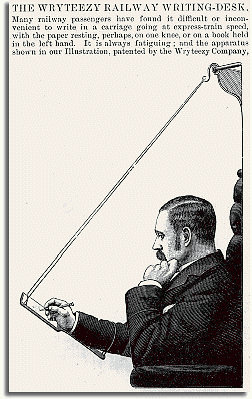 from the Illustrated London News

By 1891, different rail companies often competed with each other for business, especially on more popular routes. This led to a rise in standards on the trains. The first deluxe Pullman carriages were introduced in the 1870s for first class passengers. The former first class carriages then became second class carriages. Even the vast majority of third class travellers did not ride in roofless carriages - as had often been their lot in the early days of rail travel! Regulation had provided that some provision be made for third class passengers and prices had been fixed by Parliament.
Trains were also becoming faster and faster with some trains achieving speeds near to 100mph. However, safety had been a low priority and deaths were common in accidents. Signalling had gradually improved, and The Regulation of Railways Act 1889 compelled companies to introduce continuous automatic brakes.
H.R. Sandbach of Montgomeryshire, in his diary of 1891, noted the novelty of passing through the Severn Tunnel on his way to the South West of England: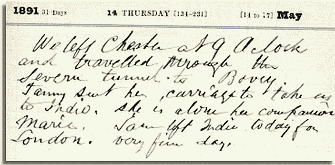 Diary entry by H R Sandbach
Indio House is in Bovey Tracey, Devon
Powys County Archives


"We left Chester at 9 Oclock and travelled through the Severn Tunnel to Bovey. [. . .] sent her carriage to take us to Indio. She is alone her companion Marie [. . .] left Indio today for London. very fine day"
---