Transport
Travel for Llandrindod tourists: Trains
The majority of visitors to the spa town of Llandrindod in 1891 would have arrived by train at the railway station.
Proximity to the station was seen as an asset by local hoteliers.

Belmont and London House Temperance Hotel,
from Evans's Guide
Powys County Archives


- Miss Dora Davies -
- Passenger to -
- Llandrindod Wells -
- Radnorshire -
Powys County Archives


Llandrindod Wells Railway Station c.1885
Powys County Archives
Various railway companies offered transport to the town.
This map shows the routes available with
Cambrian Railways: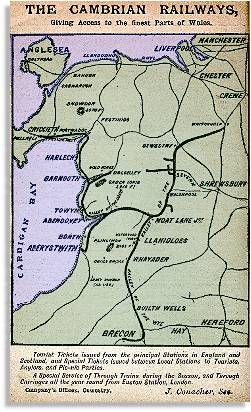 (Colour added for emphasis)
Powys County Archives
London and North Western Railways
From
Via
London
Stafford Shrewsbury and Craven Arms
Liverpool and Manchester
Crewe, Shrewsbury and Craven Arms
Birmingham
Stafford and Craven Arms
North Wales
Chester, Whitchurch and Shrewsbury
Swansea and Carmarthen
Llandilo
Cardiff, Newport
Craven Arms or Merthyr
Brecon Railway
Cardiff, Newport
Talyllyn or Builth Road
Neath, Brecon
Talyllyn or Builth Road
Cambrian Railway
North Wales
Avon-Wen, Welsh Coast Line,
Moat Lane, Llanidloes & Builth Road
---