Transport
Travel for Tourists to Llandrindod: Excursions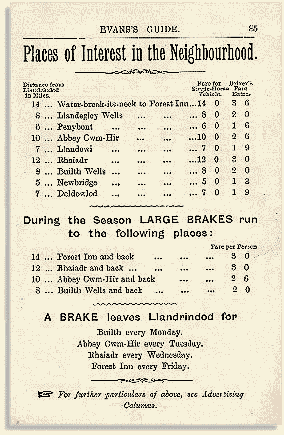 Evans's Guide timetable for outings
Powys County Archives
Once in the town, various excursions were available by carriage, some of them quite a distance from Llandrindod.
The basic fares for a carriage drawn by a single horse were one shilling per mile; the driver's fee was extra. Trips by large brake were much cheaper - perhaps the type of vehicle shown in this photo from Llandrindod Wells.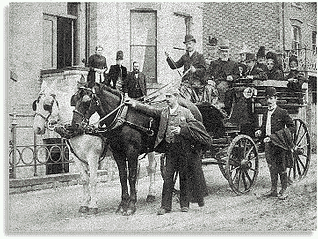 An open-topped carriage ready to set off on an
excursion from Llandrindod Wells
Radnorshire Museum
However, as Evans points out in his Guide Book regarding trips to Abbey Cwm Hir:
"Special preparations must be made for this day's excursion. Not only must the "clerk of the weather" be consulted, but an agreeable party must be secured to enjoy the drive to Abbey Cwm Hir."
Presumably the trip took a long time and would not be recommended in an open topped carriage with 'disagreeable' travelling companions.
---