Work
A Day In The Life of a Country Blacksmith:
Morgan Thomas Registered Shoeing Smith and Farrier living and working at Glandulas Forge in the Parish of Llanafanfawr, north Breconshire. A day in 1891.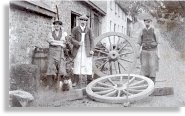 Tradesmen banding cartwheels, 1912
Right to left: Morgan Thomas, farrier
and master blacksmith; Edward Price,
master carpenter, wheelwright, and
undertaker; James Owen Mathias,
farrier and blacksmith (contributor's father).
Ellis Mathias
Morgan turned uneasily in his bed, his sleep disturbed by sound of horses hooves on the road from Troedrhiwdalar Crossroads to the Forge at Glandulas. Dawn was just breaking around 5.30 am. He knew immediately that horses were coming to his forge to be shod and that it would be Mr Williams from Cwmfadog bringing a team of carthorses to be shod. This was harvest time and Williams wanted a full day's work out of his farm hand, and he would like to be back at the farm soon after 7.30, thereby ensuring a full day's toil from the workmen. Morgan got out of bed, grabbed a quick bowl of flummery and went across the road to the forge, opened the door, set about lighting the fire in the forge and making the shoes for the horses. This achieved, he then started trimming the hooves and preparing the hooves for the shoes, then offering the heated shoes to the hoof and bedding them in so that they fitted. The air was full of acrid smoke from the burning, then slight adjustment to the hot shoe, and satisfied with the fit, he began nailing on the shoes, clenching the nails and tidying up the completed hooves, a glance into the shop and he sees Mr Williams fast asleep on the work bench, his early move was not going to deprive him of sleep.
When this task was completed, Morgan went to get his cow into the cowshed to milk it for the household and also milk to mix with the barley meal for the pig they were fattening to provide meat for the winter. Then, having had his breakfast hewould go back to the forge where another man was waiting to have adjustments made to the new scythe blade he had purchased. These blades, manufactured by the firm Isaac Nash, were made to a standard pattern. Different localities had different kinds of sneads made to a local design and had to have the butt of the blade slightly altered to suit the particular snead. [A snead or snath is the scythe's wooden handle. For more info, visit http://www.scythesupply.com/snaths.html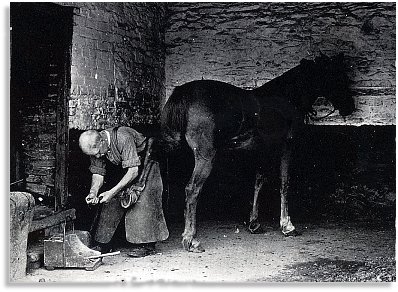 Stansbatch Smithy, Radnorshire, 1930
Radnorshire Museum
Then, there was another horse to be shod, afterwards a chain to be repaired - make a new link and weld it into the broken chain. There was a fire grate to be made which he started to make, but another horse arrived for shoeing. By now it was dinner time, so he had a short break when he ate the dinner his wife Bessy had prepared. Whilst eating this his little two year old daughter Kitty was sat on his knee, and he fed her as well. Back to work two more horses to be shod, then a short spell working at the grate. He then took a look at the swing plough he was making, this was highly skilled to be able to get it to turn over the furrow properly.
A lady calls at the door to pick up the fireirons he had made . . . they included a poker, tongs, fire shovel, and two cleats for her box iron. The tongs were a work of art, they were about two foot long with a strange hinge at the joint of the two legs. He was well known for his ability to make these, and there was quite a demand for them as wedding presents. He takes another break for his tea and cuddles his beloved Kitty, then a few jobs around the house and garden before going back to the forge. Now is the time to make some shoes for horses he is expecting need shoeing in the next few days. Around about 7.30, a few men start to arrive, they have small jobs that they urgently need for the next day. One has a coulter to dress. This is a large knife fitted to a plough to cut the ground in front of the ploughshare so that a furrow can be formed. Dressing involved sweat welding a piece of steel to the cutting edge of the coulter. This was a heavy job and required the assistance of a striker, a man using a sledge to flatten out the iron. The farm lads enjoyed this to show off their strength, but all were not capable of using the sledge accurately and would incur Morgan's wrath and have to hand over to a more experienced striker. Morgan then goes to the house for supper, but all is not done, there are a few callers with jobs for tomorrow.
Morgan's day was not yet over, and he changed his clothes, had a wash to remove the soot and sweat from his body. Then outside to the stable to harness his pony prior to riding it to Builth to practice with Llew Buallt's Male Voice Choir at 10pm, they were going to compete in the National Eisteddfod in North Wales which event they won. The journey to Builth and back approximately 16 miles, returning about 2 am. A full day by any standard.
Toiling, rejoicing, sorrowing,
Onward through life he goes;
Each morning sees some task begin,
Each evening sees it close;
Something attempted, something done,
Has earned a night's repose.
Thanks, thanks to thee, my worthy friend,
For the lesson thou has taught!
Thus at the flaming forge of life
Our fortunes must be wrought;
Thus on its sounding anvil shaped
Each burning deed and thought.
Longfellow
Contributor: Ellis Mathias
Morgan Thomas, b. 6/1/1862 d. May 1948, was contributor's grandfather.
---