Home Life
Lewis Lloyd Collection: Recipes - Cakes, Biscuits & Desserts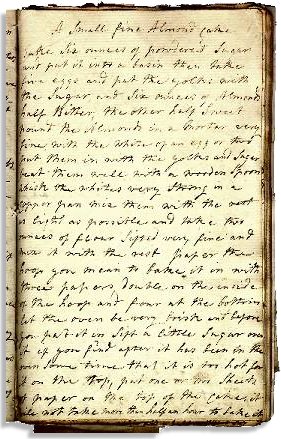 A Small Fine Almond Cake
Powys County Archives

A Small Fine Almond Cake

Take six ounces of powdered sugar and put it into a basin then take five eggs and put the yolks with the sugar and six ounces of almond half Bitter, the other half Sweet. Pound the almonds in a mortar very fine with the white of an egg or two put them in with the yolks and sugar beat them well with a wooden spoon whisk the whites very strong in a copper pan mix them with the rest as light as possible and take two ounces of flour sifted very fine and mix it with the rest. Paper the hoop you mean to bake it in with three papers double on the inside of the hoop and four at the bottom let the oven be very brisk and before you put it in sift a little sugar over it if you find after it has been in the oven some time that it is too hot for it on the top, but one or two sheets of paper on the top of the cake, it will not take more than half an hour to bake it.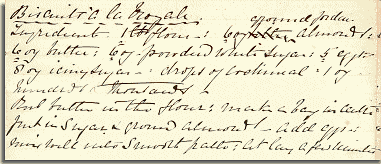 Biscuits a la Royale
Powys County Archives
Biscuits a la Royale

Ingredients:
1 lb. Flour

6 oz ground Jordan almonds
6 oz butter
6 oz powdered white sugar
5 eggs
8 oz icing sugar
drips of cochineal
1 oz hundreds & thousands
Rub butter in the flour: make a bay in centre put in sugar and ground almonds - add eggs and mix well into smooth paste; let lay a few minutes. Roll out ¼ inch thick. Cut rounds. Bake light brown. When cold ice them.
This recipe was also found in a printed source via the internet.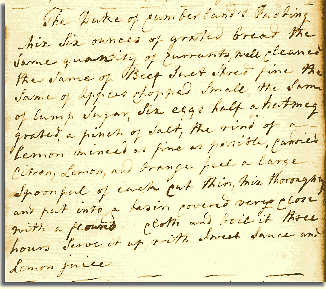 The Duke of Cumberland's Pudding
Powys County Archives

The Duke of Cumberland's Pudding

Mix six ounces of grated bread, the same quantity of currants, well cleaned the same of beef suet shred fine, the same of apples chopped small, the same of lump sugar, six eggs, half a nutmeg grated, a pinch of salt, the rind of a lemon minced as fine as possible, candied citron, lemon and orange peel a large spoonful of each cut thin. Mix thoroughly and put into a basin covered very close with a floured cloth and boil it three hours. Serve it up with sweet sauce and lemon juice.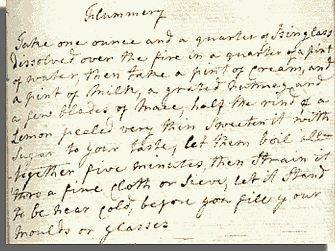 Flummery
Powys County Archives

Flummery

Take one ounce and a quarter of Isinglass dissolved over the fire in a quarter of a pint of Water, then take a pint of Cream, and a pint of Milk, a grated Nutmeg and a few blades of Mace, half the rind of a Lemon peeled very thin sweeten it with Sugar to your taste, let them boil all-together five minutes, then strain it thro a fine cloth or sieve, let it stand to be near cold, before you fill your moulds or glasses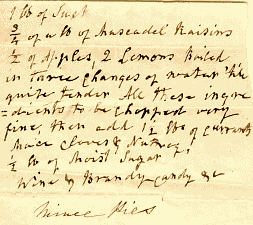 Mince Pies
Powys County Archives

Mince Pies

1lb of Suet
¾ lb. of Muscadel raisins
½ lb. of apples
2 lemons boiled in three changes of water till quite tender.
All these ingredients to be chopped very fine, then add 1 ½ lbs of currants, mace cloves and nutmeg, ½ lb. of moist sugar, wine, brandy, candy etc.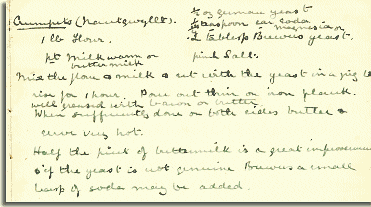 Crumpets (Nantgwyllt)
Powys County Archives

Crumpets (Nantgwyllt)
1 lb. Flour
½ oz German yeast
Pint milk warm or buttermilk
¼ teaspoon car. Soda magnesia or 2 tablesp. Brewers yeast
pinch Salt
Mix the flour and milk and set with the yeast in a jug to rise for 1 hour. Pour out thin on iron plank well greased with bacon or butter. When sufficiently done on both sides butter and serve very hot.
Half the pint of buttermilk is a great improvement if the yeast is not genuine Brewers a small teasp. of soda may be added.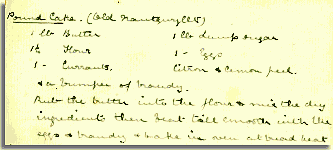 Pound Cake (old Nantgwyllt)
Powys County Archives
Pound Cake (old Nantgwyllt)
1 lb. Butter
1 lb. lump sugar
1 ¼ lb. Flour
1 lb. eggs
1 lb. currants
citron and lemon peel
and a bumper of brandy
Rub the butter into the flour and mix the dry ingredients then beat till smooth with the eggs and brandy and bake in oven at bread heat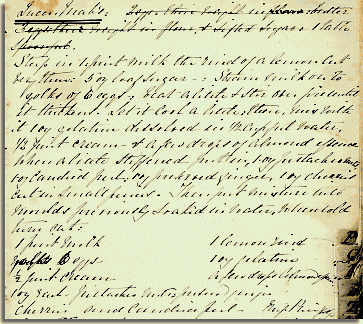 Queen Mab's
Powys County Archives


Queen Mab's

1 pint milk

1 lemon rind
yolks 6 eggs
1 oz gelatine
½ pint cream
a few drops almond essence
1 oz each: pistachio nuts, preserved ginger, cherries and candied peel
Steep in 1 pint milk the rind of a lemon cut very thin. 5 oz. Loaf sugar. Strain milk into yolks of 6 eggs; beat a little and stir over fire until it thickens. Let it cool a little; then mix it 1 oz gelatin dissolved in ½ cupful water, ½ pint cream and a few drops of almond essence. When a little stiffened put in 1 oz pistachio nuts, 1 oz candied fruit, 1 oz preserved ginger, 1 oz cherries cut in small pieces. Then put mixture into moulds previously soaked in water . When cold turn out. Miss Price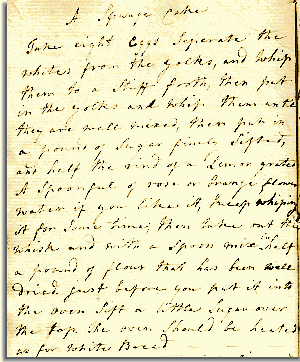 A Sponge Cake
Powys County Archives

A Sponge Cake

Take eight eggs separate the whites from the yolks, and whip them to a stiff froth, then put in the yolks and whip them until they are well mixed, then put in a pound of sugar finely sifted, and half the rind of a lemon grated. A spoonful of rose or orange flower water if you like it, keep whipping it for some time, then take out the whisk and with a spoon mix in half a pound of flour that has been well dried. Just before you put it into the oven sift a little sugar over the top. The oven should be heated as for white bread.





Welsh Cheese Cakes
Powys County Archives

Welsh Cheese Cakes

Dry ¼ lb. fine flour; mix with 2 oz sifted loaf sugar, add it by degrees to 2 oz butter beaten to a cream, and 3 eggs well beaten; flavour with grated lemon peel. Line pastry pans with short crust, put in above mixture, bake in a brisk oven.



---