Work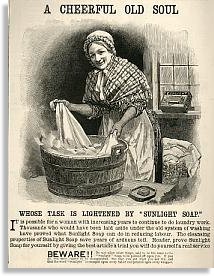 Advert for Sunlight Soap
Powys County Archives
A Laundress
Large houses could employ a maid specifically to deal with the household washing, but smaller households had to fend for themselves or employ the services of a laundress. Sometimes these would be women who would come into the house to do the washing, rather like a maid, but more often they took washing to their own homes.
This was an invaluable way to augment the family's income for a married woman, and for a single or widowed woman it could be crucial. The work could be very skilled and laundresses could make quite a healthy income. However, it was always arduous. The women would work six days a week and in many cases would do the work for the whole of their lives.
Further insights into the daily life of the laundress can be gained from The Art and Practice of Laundry Work by Margaret Cuthbert Rankin.
---